Barcelona Metropolitan Area bikesharing scheme to launch in 2023
AMBici will have 2,600 electric bicycles at 236 stations including 7 transfer points with city's Bicing system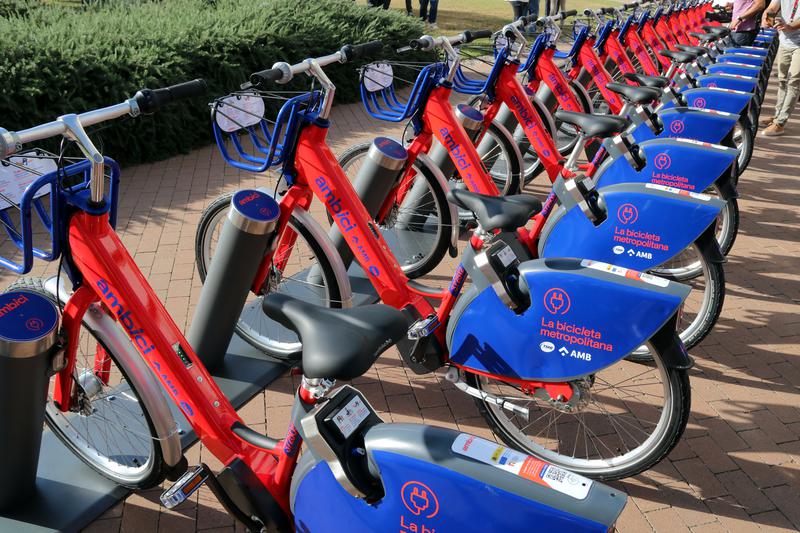 Barcelona residents and visitors alike will already be familiar with the red bikes that make up the city's Bicing bicycle sharing scheme. From 2023, the wider metropolitan area will have its own equivalent in red and blue livery: AMBici.
AMBici will be launched progressively next year with 2,600 latest-generation electric bikes and 236 parking stations.
Sant Feliu de Llobregat, Sant Joan Despí and Cornellà de Llobregat will be the first municipalities to welcome the new scheme at the beginning of 2023, with the rollout reaching twelve other municipalities over the following three months.
€25 in 2023, €40 in 2024
The annual cost of the service in 2023 will be €25. This allows users to use bikes for 30 minutes free of charge. After the first half hour the cost will be 50 cents per 30 minutes.
From 2024, the subscription will rise to €40 a year and cost 15 cents for the first half hour and 50 cents per half hour thereafter.
Integration with Bicing
It has not proved possible to fully integrate the new AMBici scheme with Barcelona's existing bikeshare system, Bicing.
However, to facilitate shared use, seven transfer stations will be installed, two in Sant Adrià de Besòs, three in L'Hospitalet, and one each in Santa Coloma de Gramenet and Esplugues de Llobregat, where users of the two systems can swap their AMBici bike for a Bicing one or vice versa.
An integrated metropolitan subscription will be created for the two services, costing between €53 and €65 annually.
15 municipalities
The new metropolitan shared bicycle service was presented on Tuesday at an event at AMB (Barcelona Metropolitan Area) headquarters that was attended by the 15 mayors of the municipalities where it will be implemented: L'Hospitalet de Llobregat, Badalona, Cornellà de Llobregat, Santa Coloma de Gramenet, El Prat de Llobregat, Esplugues de Llobregat, Sant Feliu de Llobregat, Sant Adrià de Besòs, Sant Joan Despí, Sant Just Desvern, Molins de Rei, Sant Boi de Llobregat, Viladecans, Gavà and Castelldefels.
AMBici will be managed by TMB (Barcelona Metropolitan Transport) and is co-financed with €7m from EU Next Generation funds. It represents a new impetus to enhance and facilitate sustainable mobility options in the metropolis of Barcelona, Antoni Poveda, vice-president of Mobility, Transport and Sustainability at the AMB, explained at Tuesday's presentation.