Barcelona metro gains three new stations on the L10 line
Port Comercial-La Factoria, Ecoparc and ZAL-Riu Vell open in Zona Franca after six-month delay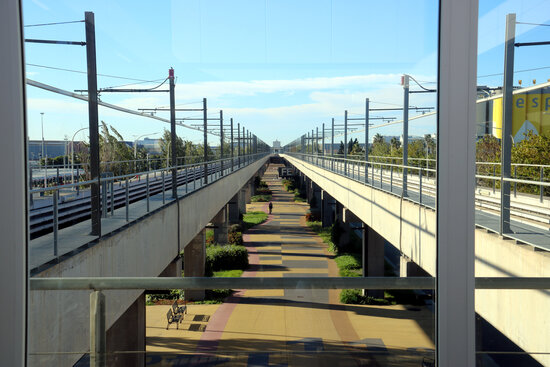 Barcelona's metro gained three new stations on the L10 Sud (South) line on Sunday, following a six-month delay.
The new stations of Port Comercial-La Factoria, Ecoparc and ZAL-Riu Vell, situated in the Zona Franca area of the Catalan capital, were to come into operation at the end of April, but that date was pushed back until the beginning of November to allow more time for preliminary testing of the driverless trains.
Speaking at the inauguration of the new stations, Catalan vice president Jordi Puigneró again called on the Spanish government to transfer the control of the Rodalies commuter train network to Catalonia. "It's not about politics," Puigneró said, "but management models."
The vice president called for the train service to be managed "from close quarters" and praised the system in place for TMB (Barcelona Metropolitan Transport), which runs most of the metro and local bus lines within Barcelona and throughout the metropolitan area.
One million journeys
The three stations that opened on Sunday, together with the existing Zona Franca station, will provide metro coverage to an area that is home to 176 companies employing some 37,000 workers.
A total of €120m has been spent on the construction of the new stations and the three kilometers of elevated track which runs above one of Zona Franca's main streets, Carrer A.
It is estimated that the metro extension will see one million journeys made a year, which would reduce carbon dioxide emission by 289 tonnes annually. In addition, more than 5,000 solar panels are being installed at the stations and in the surrounding area – a €4m investment that will generate 3m kWh of energy per year, equivalent to an annual reduction of 700 tonnes of CO2.
The addition of the new stations brings the total number on the L9 and L10 lines to 35, with 37.5km of track now in operation. The Government plans to complete the central section of the L9 metro line during this term.