Barcelona hosts 15th edition of the World Summit of Nobel Peace Laureates
Under the slogan 'Defend refugees. Achieve world peace'a dozen Nobel Peace Laureates, professors, students and worldwide organisations will tackle the refugee humanitarian crisis and try to offer practical solutions. At the presentation of the 15th World Summit of Nobel Peace Laureates in Barcelona, current Catalan President, Artur Mas, assured that the Catalan capital and the whole of Catalonia "are ready"to welcome those who run from war. He described Catalonia as "a good laboratory"of social cohesion and reception experiences on an international scale, as it has repeatedly welcomed people from all over Spain and was the point of departure for many Civil War exiles. Barcelona City Hall's First Deputy Mayor, Gerardo Pisarello, highlighted Barcelona's efforts to become a world leader in peace and in respecting human rights.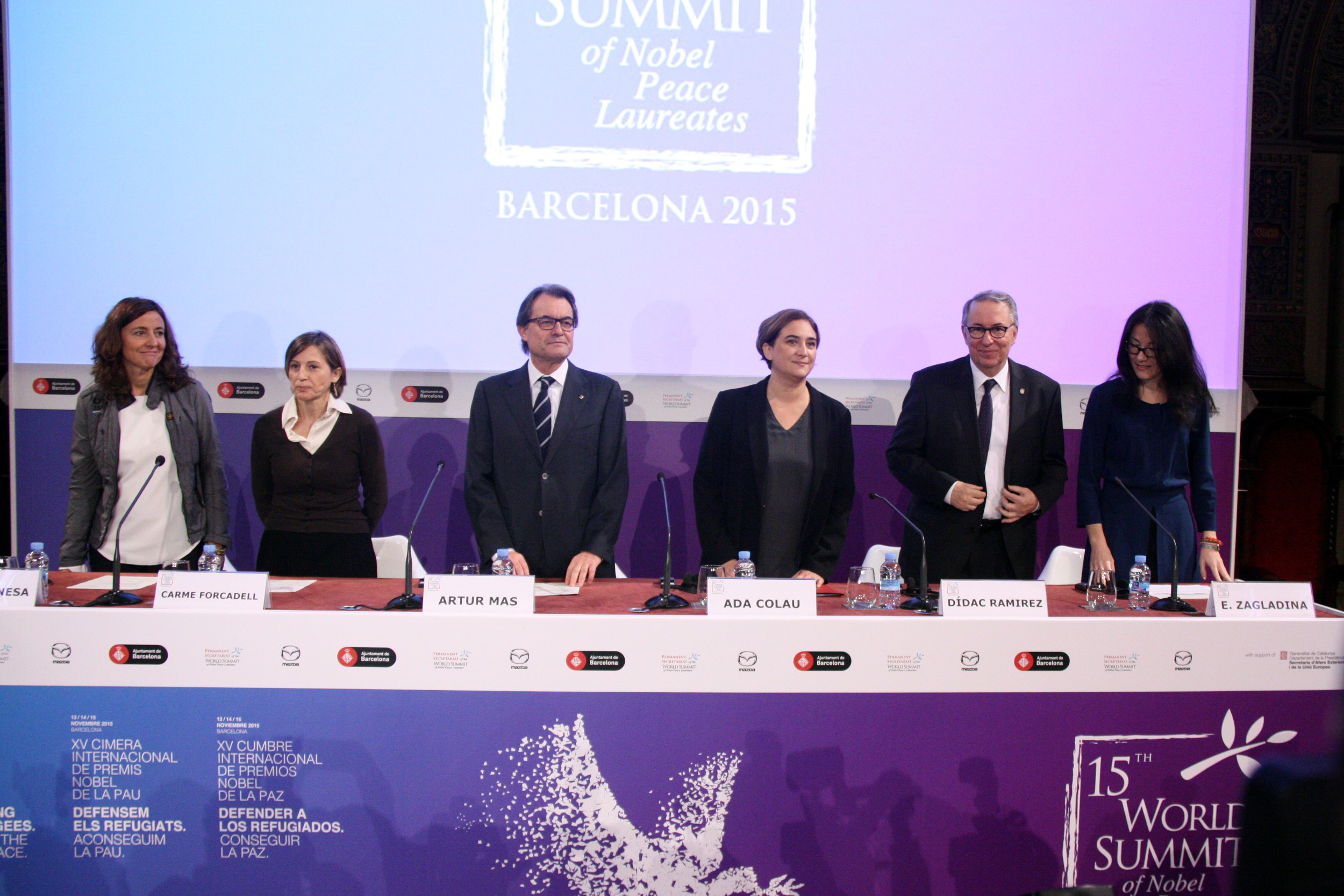 Barcelona (CNA).- From 13th to 15th of November, Barcelona will welcome a dozen Nobel Peace Prize winners for the 15th edition of an annual summit which this year has the slogan 'Defend refugees. Achieve world peace'. Together with professors, students and organisations from all over the world, they will discuss the current humanitarian crisis and its consequences around the world. "This event is not just philosophy. We need to create an active peace movement to seek common understanding and make peace work" stated Nobel Peace Prize winner Phil Lord during the opening session. Current Catalan President, Artur Mas, assured that the Catalan capital and the whole of Catalonia "are ready" to welcome those who run from war. He also highlighted Catalans' "commitment to peace"and referred to the massive "pacific and civic"pro-independence demonstrations which have hit the streets in the last years "to support freedom".
The opening session was presided over by University of Barcelona rector, Dídac Ramírez, Permanent Secretariat of the World Summit, Ekaterina Zagladina, Nobel Prize winner Mairead Corrigan Maguire, Parliament's President, Carme Forcadell, Diputacióde Barcelona's president, MercèConesa, Barcelona's Mayor, Ada Colau and current Catalan President, Artur Mas.
Mas: We must build bridges rather than walls
During his speech, Mas said that those involved should "build bridges"rather than "constructing walls"between Catalonia and the Spanish State. "Even in this moment of political debate and a certain political tension, we are still guided by a pacific mentality and the slogan 'no more walls but bridges for freedom'"he stated. "What matters is where we want to go, all together, rather than where do we come from"he assured. In just a century, Catalonia's population has almost quadrupled and the huge arrival of people from abroad has given way to an "absolutely melting pot country"that has learnt to "coexist and turn the different origins into a common project"he concluded.
Ada Colau: Cities have to take one step forward to respond to the migratory crisis
For her part, Barcelona's Mayor Ada Colau asked the international leaders to abandon their "passive attitude"towards the "worst humanitarian crisis since the Second World War" and urged them to "open" asylum for these people. "It is a moral and political duty. Europe is putting the credibility of its political and future project at risk. If we continue to look the other way, we will become co-responsible"she declared.
Following on from this, Colau highlighted the asylum cities'network promoted by Barcelona because "the cities must take one step forward and bring solutions when the states fail".
Regarding the political situation in Catalonia and its relationship with Spain, Colau lamented the "stagnant attitude"of Spain's executive regarding Catalonia's sovereignty aspirations. She described Catalonia's right to decide its political future as "fundamental". "Sadly we are dealing with a state that doesn't want to listen nor dialogue, which prefers to resort to the court and use the language of threats".
Nobel laureates and worldwide organisations to attend the summit
Other participants at the Summit include Nobel LaureatesÓscar Arias Sánchez, Frederik Willem de Klerk, Dr. Shirin Ebadi, Tawakkul Karman, Lord David Trimble, Lech Wa??sa, Betty Williams, Carlos Martin-Novella and Ingeborg Breines. Some of the organisations represented are the Intergovernmental Panel on Climate Change, the International Peace Bureau, International Physicians for the Prevention of Nuclear War, and the United Nations High Commissioner for Refugees, amongst others.