Barcelona and Paris mayors join forces against speculation
Ada Colau calls on the Spanish government to regulate price of rent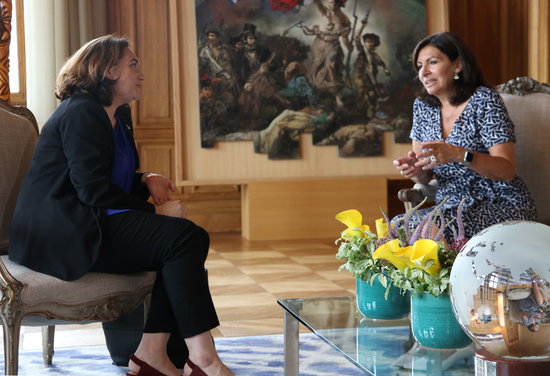 The mayor of Barcelona, Ada Colau, continues her quest against housing speculation. On Wednesday she visited the mayor of Paris, Anne Hidalgo, who supported her in a declaration of world cities asking for more powers to regulate rents.
This, after Colau met last week the mayor of London, Sadiq Khan, who also signed the declaration.
The head of Barcelona local government told the press that cities cannot be "emptied because of speculative processes."
She also said local council does not have all powers in terms of housing and called on the Socialist Spanish government to regulate the price of rent.
"It is a Spanish law and this is one of the priorities we have with the new government," she said.
Colau believes her team will have the opportunity to work with the Spanish executive in the coming weeks, after having been asking meetings with Madrid since Pedro Sánchez ousted Mariano Rajoy one month ago.
The mayor of Barcelona praised Paris policy on this issue, and explained that one of her recent measures, keeping 30% of the newly built flats for affordable housing, "has been successfully implemented in Paris for years."
Yet she claimed local governments do not have all powers to face issues such as "the abuses rise of rents."
That's why she is pushing the Spanish government to take action, but she is also promoting a joint declaration by a number of cities on housing which will be presented next week at the United Nations, in New York.
London and Paris are some of the cities supporting this text, which aims for states to give more powers on cities in regulating the housing market.
Anne Hidalgo, head of the French capital, said several "challenges" need to be faces, such as platforms like Airbnb, or the fact that people cannot live in the city centers because it is "too expensive."