Anti-drug raids in Barcelona lead to scores of arrests
51 detained in major police operation against cocaine and heroin trafficking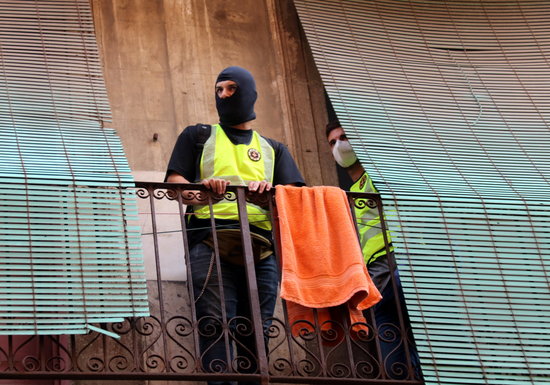 At least 51 people were arrested on Wednesday in a major police operation against cocaine and heroin trafficking networks operating in the center of Barcelona.
Police raided 35 apartments and 5 different premises, mainly in the Raval neighborhood of Barcelona, but also in the surrounding towns of Cornellà, Badalona, and El Prat de Llobregat.
In all, more than a thousand officers were deployed to take part in the operation, encompassing agents from the Catalan police (known as Mossos d'Esquadra), the local Barcelona police (or Guàrdia Urbana), and Spain's National Police.
Police seized 5 kg of drugs and 60,000 euros.
Spanish Policia Nacional forces are also investigating some for crimes related to human trafficking. The investigation remains open and further arrests are not ruled out.
"In all of the apartments used to sell drugs, it often happens that people are exploited to take part in the lower echelons of crime such as selling substances to pay the debt incurred for the trip here," Emilio De la Calle, an officer in Spain's border police forces explained.
Traffickers re-established networks after 2019 raids
In June of 2019, a similar type of raid in the same neighbourhood of Raval saw 54 people arrested and a further 105 identified. At that point, the market was deemed "neutralized" but has since regrown, leading to Wednesday morning's operation.
Over 500 officers from the Catalan police, local city police, and Spain's National police took part in the operation against one of the city's biggest drug trafficking networks.
As part of the operation, officers from the three police forces carried out raids on 35 dwellings, warehouses, and flats used as selling points for illegal drugs, known popularly as 'narcopisos'.
In the raids, officers seized 3.4 kg of heroin, 2.4 kg of cocaine and 2,233 ecstasy pills. Some 47,000 euros were also confiscated, along with six bladed weapons and a fake one.