Animal rights groups create lobby against bull-related traditions
75% of Catalans are in favor of banning 'correbous', while 80% believe it constitutes animal cruelty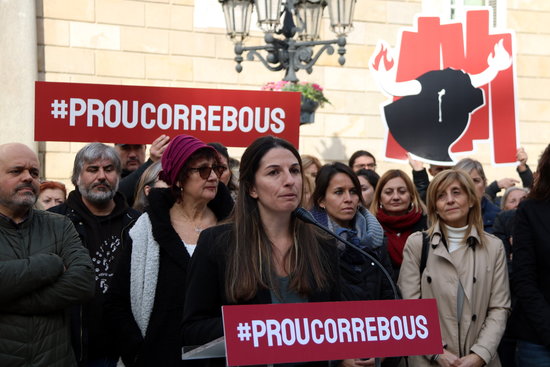 Nine animal rights groups have joined forces behind a newly created lobby – 'Prou Correbous' – to campaign against 'correbous', a tradition in which bulls run through the streets or in rings at town fairs and festivities but are not killed as they are in bullfights.
The 'Prou Correbous' platform, which means 'enough correbous' in Catalan, went public on Wednesday at an event at Barcelona's Plaça Sant Jaume square where members called on the Catalan government to back the parliamentary proposal to abolish the practice.
According to the most recent poll carried out for 'Prou Correbous', 75% of Catalans think that the tradition should be banned, while 80% believe it to be a form of animal cruelty even though the bull is not killed, as is the case with bullfighting.
Spokesperson Aïda Gascón, of AnimaNaturalis, highlighted that the latest figure of those who believe 'correbous' constitute animal cruelty represents a 5.8% increase compared to the 2012 poll results and argued that the government should therefore be pressured into backing their suspension.
The latest poll also concludes that 85% of Catalans are against the allocation of public funds to help with putting on these spectacles, which Gascón estimates add up to a total of €800,000 annually.
At today's lobby presentation event, Gascón announced that she would soon be holding a round of talks with different parliamentary groups to come up with a concrete parliamentary proposal that would lead to the abolition of 'correbous'.
Every year in Catalonia there are around 450 'correbou' shows, especially in the southern Catalan region of Terres de l'Ebre, in the province of Tarragona, although they do not only take place there.
A recent incident that saw 19 people injured when a bull broke loose from its pen, for example, took place in the small Girona province town of Vidreres, in northern Catalonia.
2010 Catalan bullfighting ban
The Catalan Parliament banned bullfighting in 2010 but allowed for the 'correbous' tradition to continue since the bulls are not killed at the end of the show.
Although Spain's Constitutional Court overturned the ban in 2016, there have been no bullfights since for a number of social, political and economic reasons.