Alert over high river levels due to rain, with some residents evacuated
Cyclist dies in Vic after being swept away by a torrent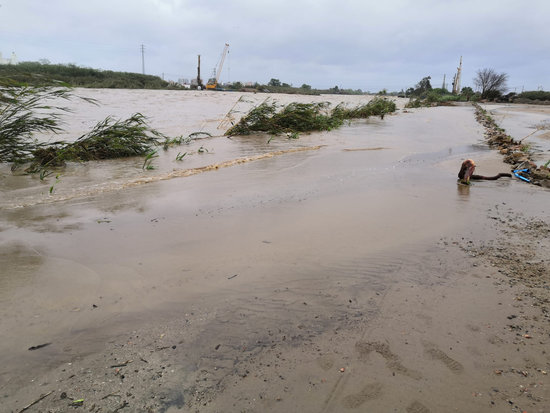 River levels in the northeastern counties were especially high on Wednesday morning after Catalonia suffered heavy rain for five days in a row.
The Civil Protection authorities urged caution in the areas that might be flooded north of Barcelona and in the Girona region, especially near riverbeds, with some 20 roads also affected.
Rivers such as the Daró in La Bisbal d'Empordà, Serra de Daró were threatening nearby areas, and the authorities were also concerned about the Fluvià, Muga and Ter rivers, as well as the Tordera, one of the rivers that burst its banks at Palafolls, the area where the same thing happened three months ago, during Storm Gloria.
In Torroella de Montgrí, farmhouses were evacuated and local residents were asked to stay on the upper floors of buildings near the river Ter, where some of the protective walls collapsed due to the severe weather.
Cyclist dies in Vic
A cyclist who was reported to have been swept away by the Gurri river in Vic in central Catalonia has been found dead. His body was found at 12.58pm following a search, according to home affairs minister, Miquel Buch.
A witness alerted police this morning after seeing the man being carried away by the river. Firefighters, local Police and Civil Protection were involved in the search.
Emergency services had received over 1,500 calls due to the period of rain and wind on the 112 number by Wednesday at 11am local time.