Heavy rain in northeastern Catalonia elevates risk of flooding
Civil Protection calls for caution near rivers and streams and foresees strong winds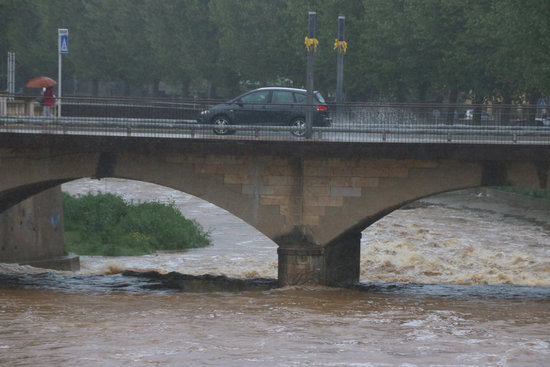 The fourth day of rain spells across Catalonia began on Tuesday with some rivers growing significantly higher.
There is an increased level of alert for the Daró river, for instance, in the Girona region's La Bisbal d'Empordà, meaning it could see flooding in some areas. The Daró, along with other rivers, already burst its banks in January when Storm Gloria swept parts of the country.
On Tuesday morning, one of Barcelona's Ronda Litoral (B-10) lanes was blocked off in the Montjuïc area near Llobregat due to the elevated risk of flooding.
Other roads, like C-31 in Ullà, Girona, were also diverted in the morning due to severe weather.
Heavy rain is expected all-day Tuesday in parts of the Barcelona metropolitan area as well as, especially, in the northeastern Girona region.
Civil Protection has issued warnings for possible floods and for strong winds, with authorities recommending that everyone stay away from at-risk areas and the sea as waves could be 2.5 meters tall or higher.
Catalonia's meteorological authority estimates that rain might surpass 100 mm on Tuesday in the Garrotxa, Gironès, Pla de l'Estany, la Selva and Vallès Oriental. Also, but with less likelihood, in Alt and Baix Empordà, Maresme, Osona, Moianès, Bages, Vallès Occidental, Baix Llobregat, and Barcelonès counties.
It also warns the public of possible dangerous ice melting at certain altitudes as the rain can cause snow to melt rapidly.