'A coup has winners and losers': leaked chat logs from Spanish judges
Judges used official email to challenge Catalonia's push for independence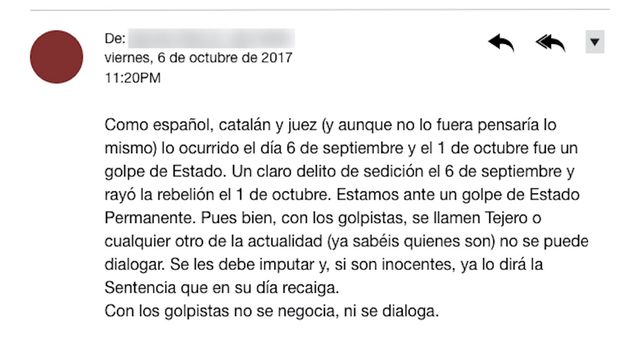 Spanish judges used their corporate email accounts to take on Catalonia's push for independence, according to leaked chat logs published by eldiario.es and el Món. Some judges refer to last October's referendum as a "coup d'etat" and compare the political situation in Catalonia with that of Nazi Germany.
"As a Spaniard, a Catalan, and a judge, what happened on September 6 and October 1 [in Catalonia] was a coup d'état," read a message published by a judge on October 6, shortly after the vote. "You can't negotiate with those who carry out a coup, nor engage in dialogue with them."
Another judge said that "a coup has winners and losers," and stated that "the bloodshed that [pro-independence leaders] aimed for can't go unpunished."
Several messages draw parallels between Catalonia's pro-independence movement and the Nazis. "It's the same that occurred in Germany long ago," reads one comment.

The leaked conversation caused widespread outrage among pro-independence supporters, and Catalan president Quim Torra even called for the president of the General Council of the Spanish Judiciary, (CGPJ) Carlos Lesmes, to "resign immediately" and asked for a "full investigation."
According to Torra, who leads a pro-independence government in Catalonia, the emails show "a total lack of impartiality of a wide part of the Spanish judicial system".
The leaked messages also show several judges hailing king Felipe VI and other Spanish institutions. "Long live the Spanish police, long live the Guardia Civil, long live Spain and long live the colleagues who truly look after our legal system," read one of the comments.
In several comments, judges say pro-independence leaders should be accused of sedition and rebellion—charges which the state's attorney general eventually filed against government officials and civil society leaders.
In total, there are nine pro-independence leaders accused of rebellion held behind bars while awaiting trial. Seven politicians left the country to avoid being prosecuted in Spain.