President condemns 'total lack of impartiality' of the judiciary after 'shameful' emails
Torra says the president of the General Council of the Judiciary must resign "immediately" and urges the release of jailed pro-independence leaders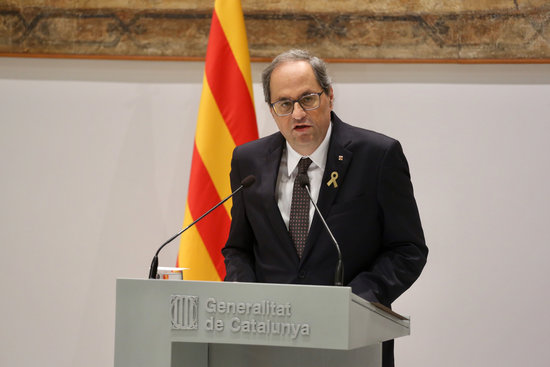 President Quim Torra condemned on Thursday the "total lack of impartiality" of the Spanish judiciary after leaked e-mails showed "bias" against pro-independence leaders.
He urged the president of the General Council of the Spanish Judiciary, Carlos Lesmes, to "resign immediately" and asked for a "full investigation".
The e-mails, published by 'eldiario.es' and 'El Món' newspapers, show conversations amongst judges discussing the independence process.
"This coup d'état should end with winners and losers," said one judge, while another added that there shouldn't be "negotiation nor dialogue" with pro-independence leaders.
"This is pure Nazism," says another judge, while describing the situation in Catalonia as "the one in Germany in the 30s."
"These events are extraordinarily serious and show a total lack of impartiality of a wide part of the Spanish judicial system," said President Torra in an institutional speech.
"This puts into question the bases of the rule of law," he added, describing the situation as "shameful."
The Catalan president urged the Spanish president and the general prosecutor to "investigate" the scandal and said that, in this scenario, "all those unfairly imprisoned must be immediately released."
Torra also asked for the case against pro-independence judges to be declared null.
The President announced that he will raise the issue to the European Commissioner for Justice, Verá Jourová.
"The lack of judicial independence is a European problem," he said.