28 sent to jail after week of disorder in Catalonia
Around 200 people were arrested in Barcelona and other major Catalan towns, with 104 of them passed before court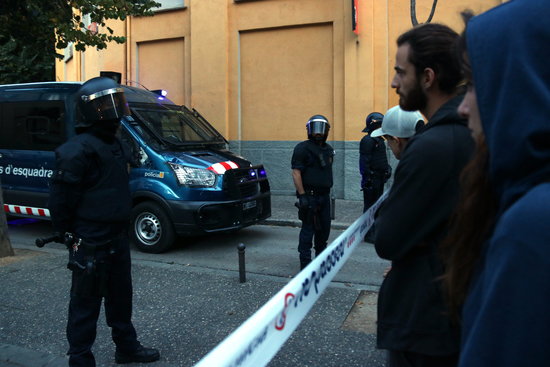 There have already been 28 detainees transferred to prison for public disorder in the riots against the guilty verdict for Catalonia's political leaders last week.
This comes after the courts of Barcelona, Lleida and Girona decreed that a further eight people arrested for their actions would go to jail on Sunday.
In Barcelona, four more were sent to prison, meaning there are now 16 people behind bars, whilst five are behind bars in Lleida. A further two were sent to prison in Girona, where the total is also now five, and in Tarragona there are also two behind bars.
Since the beginning of the protests, which were held throughout the week from the release of the verdict on Monday all the way through to Sunday, around 200 people have been arrested, with 104 of them passed before court - 43 in Barcelona, 18 in Girona, 30 in Lleida and 13 in Tarragona.
76 of them were released with precautionary measures, some of which have been banned from participating in future demonstrations or were ordered to not be within 500 metres of headquarters of the Spanish government.
The first instances of arrests took place with 20 on Wednesday in Barcelona, with the most recent being in Girona on Sunday. Furthermore, someone was arrested and later sent to jail in Madrid for riots against the post-verdict protests that took place in the Spanish capital.
Those sent to jail in Barcelona, Lleida and Girona on Sunday were held accountable for public disorder and attacking police officers, with detainees in Lleida sent to jail due to actions related to the general strike across Catalonia on Friday.
These figures come after a week of political and societal turmoil across Catalonia. Protests descended into civil unrest, which was condemned by politicians of the Catalan and Spanish government leading to clashes with police, barricades lit on fire, backlash from far-right extremist groups and as of Monday morning a total of 593 injuries.
Friday's general strike saw 525,000 people peacefully protest at the Passeig de Gràcia in the afternoon, with many having marched for three days from various Catalan towns to come together in Barcelona.