19 Ukrainian refugee students start school in town of Tàrrega
Another 27 children in western Catalonia town yet to enroll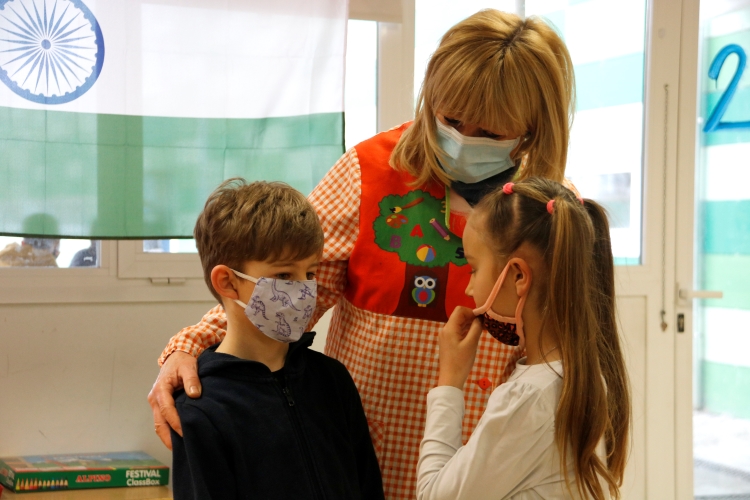 19 Ukrainian refugee students attended their first day of classes in the western Catalan town of Tàrrega on Monday. After being in the city for several days, authorities have finished the paperwork to enroll them.
Tàrrega has 101 refugees, mayor Alba Pijuan said. Of these, 46 are children of which 36 need to be in school. There are still 27 more pupils waiting to get their paperwork in order.
To speed up the process, the Spanish government has opened a registration office in the western city of Lleida with specific dates for refugees in different towns. For example, 24 of the Ukrainians in Tàrrega will go to Lleida on Wednesday morning on a bus chartered by the city council.
With this method, authorities want to avoid confusion on when to book residency permit appointments as officials are taking care of everything.
The town mayor highlighted the importance of asking for these permits, as they are needed to receive economic aid or other forms of public assistance.
Schooling marked by availability
The first schools have been assigned based on the availability of slots, Tàrrega's mayor told several media outlets at Escola Maria Mercè Marçal school, one of the first education centers to welcome these new students.
Officials have also taken into account whether the students have siblings, as they are assigned to the same school. The town expects more Ukrainian refugees to arrive this week depending on how the conflict in Eastern Europe evolves.
Complicated situation
The latest figures released by the Catalan government show that over 9,500 Ukrainian refugees are already in the territory.
On Tuesday, up to 30 refugees based in another inland town, Guissona, will go to Lleida for their paperwork. Residency permits will open the doors to having the right to work, receive financial support or open a bank account.
However, managing this situation is "complicated" Pijuan said, so she is urging the Catalan and Spanish governments to give economic aid to those Ukrainians that cannot currently work.
Another solution for those escaping their invaded country is for them to learn the Catalan language, said Pijuan, who already has a meeting scheduled to find a solution for this.
1,252 Ukrainian refugees with residency permits
Since the war started, Catalonia has received around 8,000 Ukrainian refugees, out of those 1,252 already have a residency permit that allows them to work and to temporarily live in the territory.
Overall in Spain, there are 10,260 registered Ukrainians with a residency permit, data by the Interior ministry published on Monday showed.
The Spanish government reminds all those escaping the war that they can get a residency permit in one of the information points across Spain, one of them located in the Fira de Barcelona congress hall.