Ukrainian refugee welcome center in Barcelona congress hall opens
Catalonia receives 8,000 Ukrainians who flee the war in their country, 151 are children without a legal guardian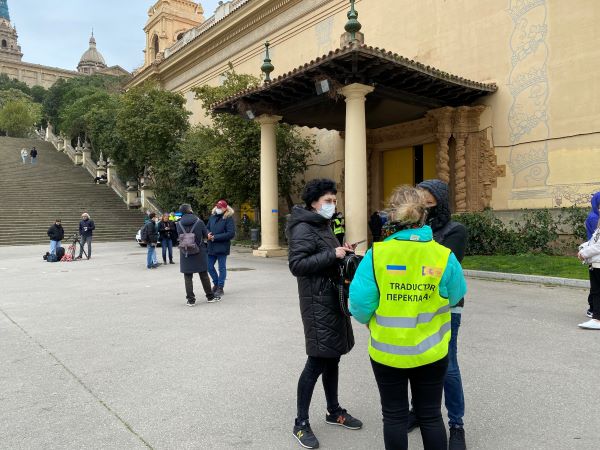 Ukrainian refugees arriving in Catalonia can now go to the Fira de Barcelona exhibition center to get information on their situation.
The large site to welcome Ukrainians opened on Friday with queues and confusion in the first hours.
Initially, only refugees with a prior appointment are being attended to, a condition unknown to many of them who arrived. So far, authorities are only helping people that do not have a place to sleep.
The information point will help those escaping the war in the Eastern European nation set themselves up in Barcelona and Catalonia. This is one of three such centers open across Spain.
While the doors were only accessible to people requesting urgent assistance such as a place to sleep or food, outdoors a group of Ukrainian translators helps those asking for aid. One of them told Catalan News that, on Thursday evening she was called as they needed her help.
The doors were supposed to be open at 9 am but Ukrainians only found queues and a pavilion with the doors closed. As they did not have an appointment, the vast majority left after writing down a phone number to book a timeslot for future days.
It is the case of Katerina, after arriving at the refugee welcome center, authorities "said tomorrow I have to ring a phone number they have and ask what time or date I can come here with my family," she told Catalan News.
She is a Ukrainian refugee but has been in Barcelona since early February, weeks prior to the Russian invasion of her country. Katerina came with her husband and son to study her master's, but now as she has a student visa, she cannot work nor return to her country.
As of March 18, Catalan government authorities have announced that there are 8,000 Ukrainian refugees in Catalonia. Out of these, over 150 are children without any legal guardian, and others have been sheltered by their Ukrainian childhood friends that live in Rubí. Others have been already hosted by the government in some hostels across the territory.
Politicians sound the alarm
After the images of long queues, Catalan politicians have sounded the alarm. The government hopes that the center "properly works soon," the presidency minister, Laura Vilagrà, said to media outlets.
The executive had already foreseen some "logistical difficulties" on Thursday but allowed the pavilion to open because of the "emergency situation" refugees find themselves in.
On a similar note, Barcelona's deputy mayor Jordi Martí reacted to the opening of the information point hoping that the Spanish government "improves" the site soon.
The same pavilion in the facility located in the Catalan capital lodged vulnerable people in the toughest months of Covid-19 and is still being used as a vaccination point.