Thousands of police secure Congress ahead of Pedro Sánchez's PM bid
500 protesters gathered outside chamber during Socialist leader's speech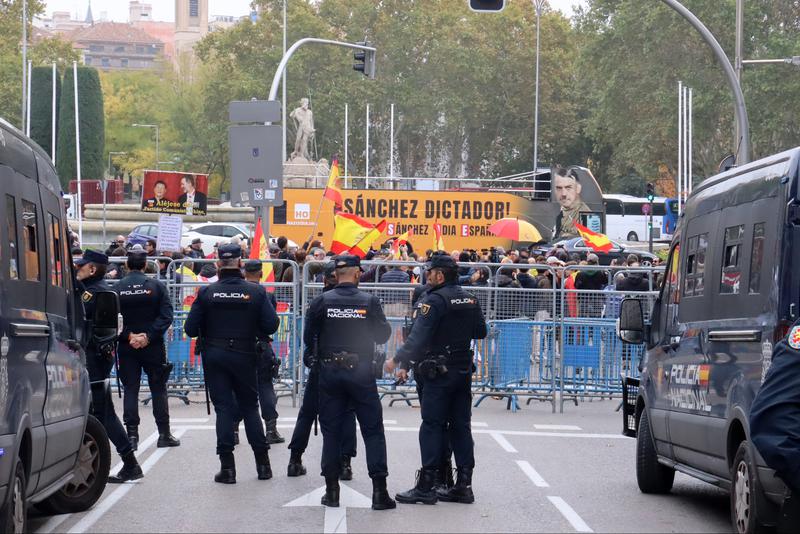 More than 1,600 police officers have been deployed to Spain's Congress during the first day of Pedro Sánchez's bid to be re-elected as prime minister, which started at noon.
Police officers are only allowing people with accreditation to access the area around the chamber, to keep protesters away from the building, and have put up barricades around the entrance. Some MPs have entered the building through a side door.
Outside Congress, about 500 protesters have already gathered in the streets, according to the Spanish government's delegation. Demonstrators chanted "Sánchez resign" and "Puigdemont go to jail."
No incidents have been reported, but there was a moment of tension when a protester hung a Francoist flag and others asked him to take it down.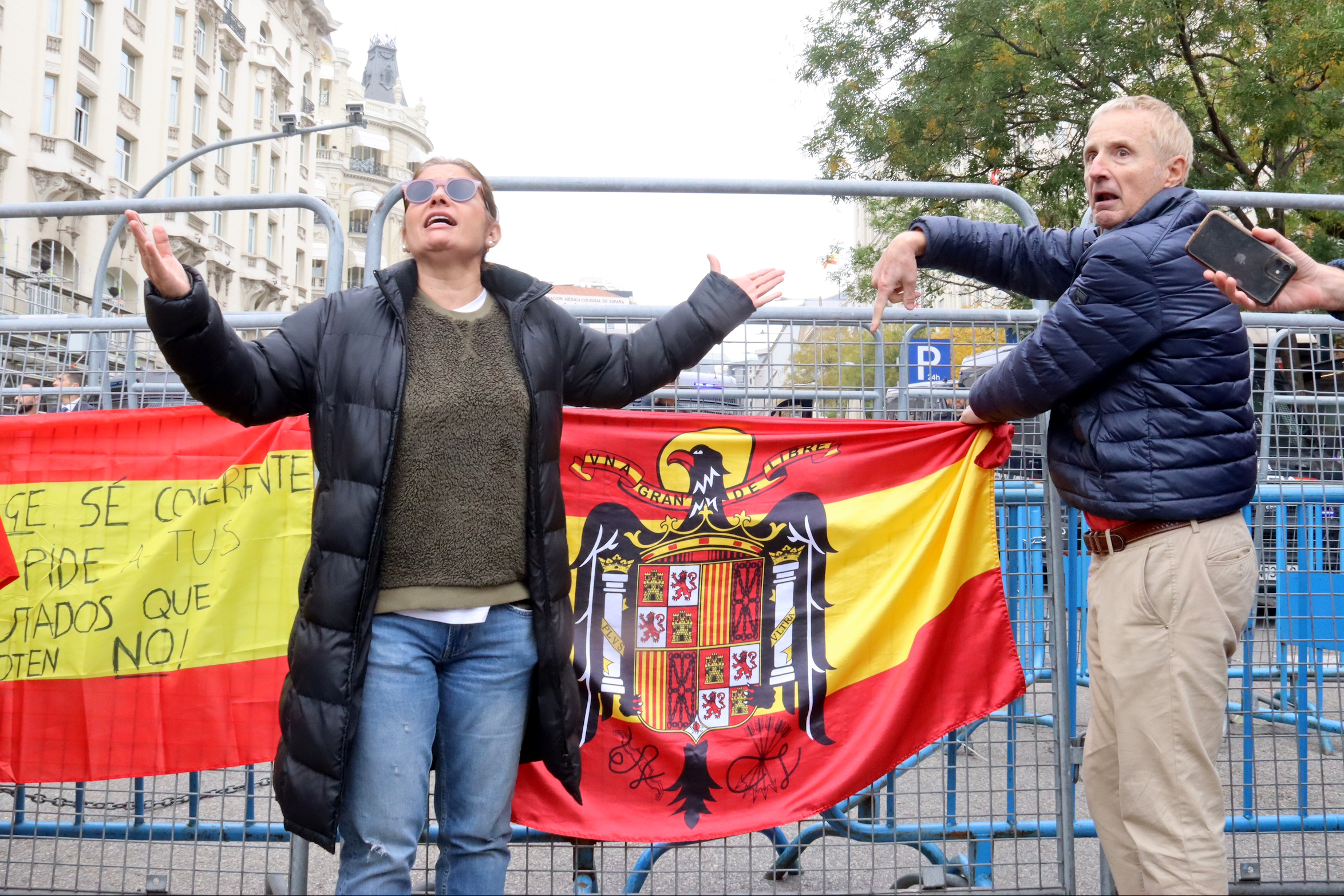 In another incident, some demonstrators shouted at reporters from the Catalan public broadcaster TV3 who were covering the protests.
The far-right platform Hazte Oír (Make Your Voice Heard) has parked a bus depicting Sánchez as Adolf Hitler outside Congress. Signs with slogans such as "Sánchez dictator," "Sánchez hates Spain" and "Sánchez traitor" were displayed on the bus.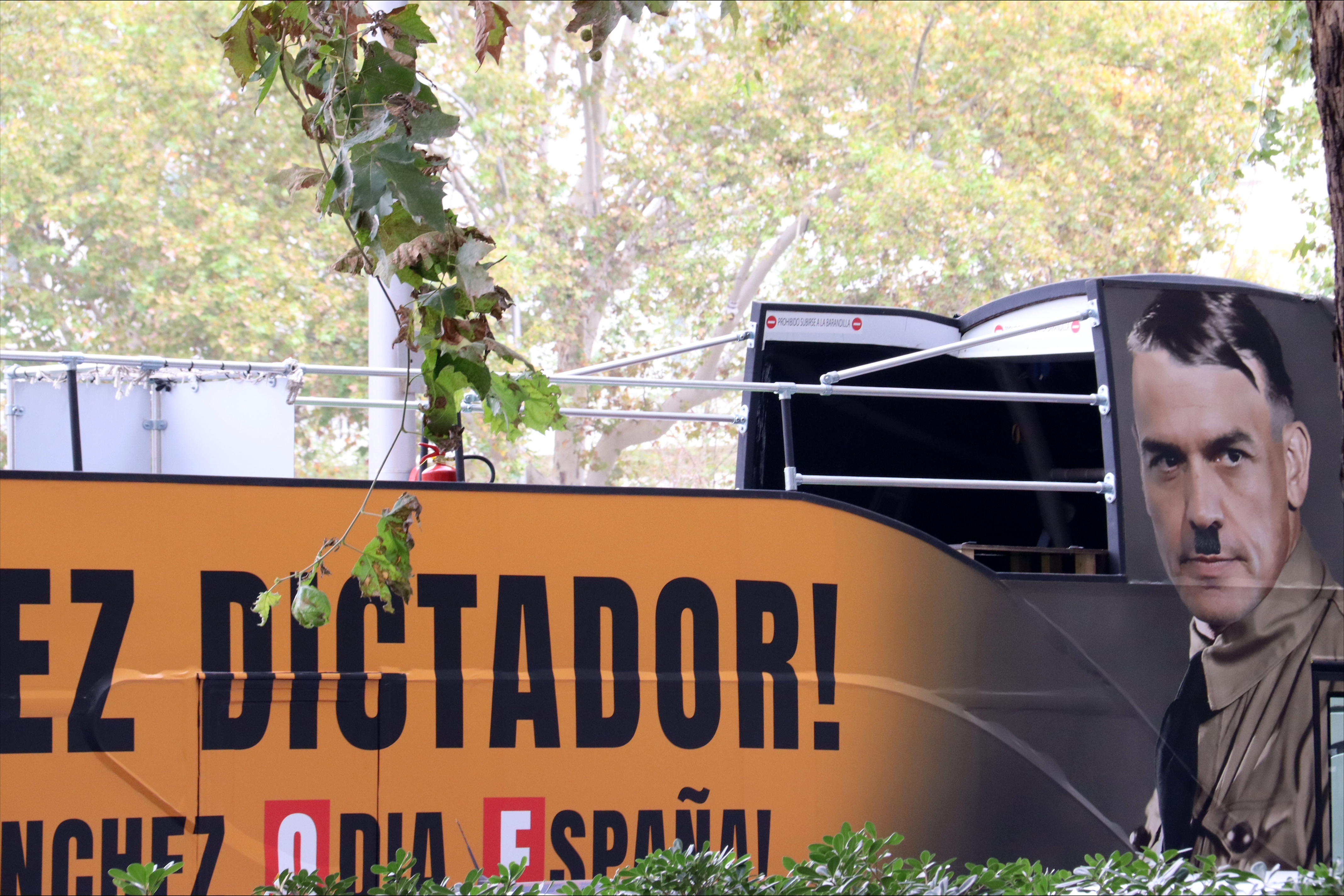 Thousands are expected to protest outside Congress throughout the day against Sánchez's investiture debate and his controversial amnesty law.
On November 3, amid intense negotiations between the Socialists and the Catalan pro-independence parties ERC and Junts, thousands gathered at the Socialist's headquarters in Madrid to protest against their proposed deal. This took place for twelve consecutive nights, with a decreasing presence in more recent days.
The Socialist leader addressed Congress in an hour-long speech this morning. You can watch it here:
Amnesty for independence push
The demonstrations in Madrid came after the Socialists reached a deal with Catalan pro-independence Esquerra Republicana (ERC) and Junts on an amnesty law in exchange for the support in a prime ministerial bid.
With the backing of 179 members of Congress, Sánchez could now be reelected as prime minister. And it all came down to an amnesty law for those involved in judicial cases related to the Catalan independence push of the last decade.
The Socialists had already negotiated an amnesty law with Esquerra Republicana de Catalunya. However, Junts considered that the amnesty text signed with the other party was insufficient, and demanded that the future law also include cases not directly related to the 2017 independence push, which they consider "lawfare."
The new text includes citizens and those responsible "before and after the 2014 non-binding self-determination referendum," as well as those who "have been prosecuted or are in judicial processes linked to [the 2017 vote]."
The text, which was submitted to Congress on Monday, has prompted thousands to demonstrate against it in Madrid and in Barcelona during the past week. The European Commission has also asked the Spanish government for more detailed information on the proposed law.
A highly controversial law
Opposition parties such as PP and far-right Vox have expressed their opposition to the amnesty law.
PP's General Secretary Cuca Gamarra said the text was "dictated by its own criminals," referring to the pro-independence parties.
She said the only purpose of the law is Sanchez's interest in continuing as prime minister, in what she deems will be the "most turbulent legislature of our democracy."
María Elisa García Fuster, a Vox parliamentarian in Catalonia, called on citizens to "rebel" and demonstrate against the amnesty bill.
"Spain will not be defended from the sofa, we must all go to the streets, raise our voices and be heard in Moncloa [the PM's official residency]," she said.
Vox confirmed on Tuesday that they have filed a complaint against the amnesty law with Spain's Supreme Court.