Who is Clara Ponsatí? Why was she arrested? Will she go to prison? Q&A on MEP's return
Formerly exiled pro-independence leader made a surprise return to Barcelona this week and was arrested shortly after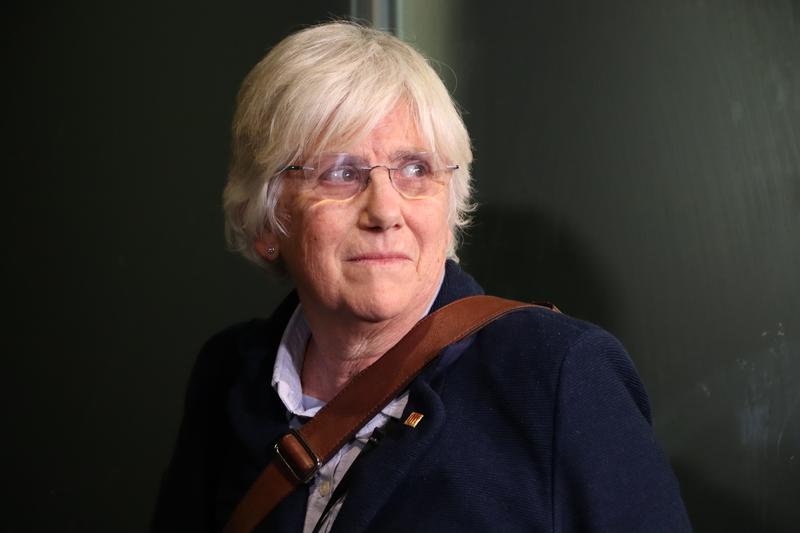 Clara Ponsatí, the formerly exiled pro-independence politician, made a surprise return to Catalonia on Tuesday, before being arrested shortly afterwards. Here's a breakdown of who she is, why she was living in exile, why she was arrested, and what could happen next.
Who is Clara Ponsatí?
Clara Ponsatí is a Catalan politician and member of Junts per Catalunya, one of the main parties in favor of independence. Ponsatí was Catalonia's education minister at the time of the 2017 independence referendum and has been wanted by Spanish authorities for her role in the independence push ever since. In the last European elections in 2019, she became an MEP alongside former Catalan president Carles Puigdemont and former minister Toni Comín, both of whom are also living in exile.
Why was she living in exile?
In the aftermath of the peak of the independence crisis in 2017, Ponsatí, like some other pro-independence politicians, left the country to avoid facing charges from Spanish authorities. Since 2017, she has been living in exile in Scotland and Belgium.
What is she wanted by Spanish authorities for?
Initially, the most serious crimes Ponsatí was charged with were rebellion and sedition, like the rest of the leaders of the 2017 independence push. Rebellion was later removed from her charges after the verdict of the trial against the independence leaders became known and they were convicted of sedition.
In late 2022, the Spanish government reformed the criminal code, removing the crime of sedition and replacing it with the lesser 'aggravated public disorder.' The Supreme Court, however, did not determine that the events of 2017 corresponded with the crime of aggravated public disorder, and now the charge against Ponsatí is only disobedience.
Why was she arrested?
Ponsatí was arrested due to the active warrant out for her arrest for her open case of disobedience. Supreme Court sources let it be known that she would not be arrested or detained if she voluntarily presented herself to the court to give her statement, but Ponsatí also let it be known that she had no intention of voluntarily presenting, as she says she does not recognize the authority of the investigating judge Pablo Llarena. Therefore, the police acted on the judicial order to arrest her.
Other pro-independence exiles who were also wanted for only disobedience, Meritxell Serret and Anna Gabriel, have made surprise returns in recent years, and both chose to voluntarily present themselves before the court to give statements. Both were freed immediately after giving their statement, and their court procedures are ongoing. Serret, Catalonia's current foreign minister, had her court date on Wednesday, March 29, 2023.
Why does she say her arrest was illegal?
As a Member of the European Parliament, Ponsatí has certain privileges such as parliamentary immunity. Therefore, she said that she could not be arrested, as this would conflict with her immunity. The EU Commission says there are "some provisions that allow for the arrest of MEPs" but said that Ponsatí's case would be "reviewed" by the institution's legal services.
Can Ponsatí go to prison?
The crime of disobedience does not carry a prison sentence, only a fine and disqualification from holding public office, therefore Ponsatí will not face a prison sentence.
What are the next steps for her case?
After her arrest on Tuesday afternoon, she was held in a legal department complex for some hours before giving a statement and being released. Her disobedience case will now continue, and Supreme Court judge Pablo Llarena has called on her to attend a hearing on April 24 at 11 am to formally notify her of her charges.
Llarena lifted Ponsatí's arrest warrant and ordered the politician to report a home address and phone number. The judge also warned her that failure to attend the upcoming hearing could result in her arrest.
What does the Supreme Court say about her immunity?
Earlier in March, Llarena resolved doubts raised by the defenses maintaining arrest warrants active against MEPs. The Supreme Court magistrate explained that the European Union treaty attributes the privileges to members of the national parliament, and added that since the charges were filed in March 2018, the immunity they gained after becoming MEPs in 2019 does not allow the previous charges to be dropped.
Would Puigdemont have immunity in the event he's arrested?
Despite the Supreme Court's stance on immunity, magistrates maintain that in the event that other pro-independence exiles such as Puigdemont are arrested in Spain and if the court decides it is justified to detain them for longer than it takes for them to give their statement, they also do not rule out allowing authorization to attend parliamentary meetings, as long as their immunity has not been suspended by that point.