Former far-left MP makes surprise return after 4-year exile to testify in court
Anna Gabriel was wanted for her role in the 2017 independence push but has been allowed to go back to Switzerland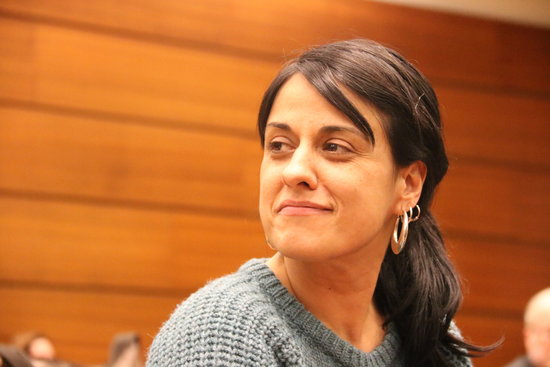 Anna Gabriel, the former CUP politician who had been living in exile in Switzerland, has made a surprise return to Spain, voluntarily appearing before the Supreme Court.
She is one of the politicians wanted by Spanish authorities for her role in the 2017 independence push, and had spent years studying a Ph.D. in Switzerland, before making an unexpected return on Tuesday morning.
She left the country in February 2018, just months after the October 2017 Catalan referendum and declaration of independence, arguing that she would not get a fair trial in Spain.
Many other high-profile Catalan politicians left at the same point, including the president at the time of the independence vote, Carles Puigdemont, who is now an MEP along with two other exiles: Toni Comín and Clara Ponsatí.
Lluís Puig is also outside the Spanish judicial framework. Belgium rejected extraditing him, but a recent EU court ruling against the reasons the Belgian judiciary argued could reopen his case.
On top of these four politicians in Brussels, Esquerra party secretary general, Marta Rovira, is in Switzerland also in exile.
Gabriel second exiled to return but will still live in Switzerland
Gabriel is now the second formerly exiled politician to return voluntarily, after former minister Meritxell Serret did the same in March 2021 after living in Belgium for years.
Accompanied by her new lawyer, Íñigo Iruín, who also accompanied the return of Serret, Gabriel has decided to return to Spain and put and face the charges against her. She is accused of the crime of disobedience, which does not carry imprisonment, and has been therefore allowed to go back to Switzerland, pending further legal proceedings. She will have to testify again in court for disobedience in the near future.
Gabriel will still live in the Alpine country arguing she has "personal and work responsibilities" to comply with. She is secretary general of UNIA union in the Swiss canton of Geneva.
Prosecuted in March 2018, she was held in contempt of court in July of the same year for failing to show up to testify. No continental arrest warrants were put out for her, as she was only accused of disobedience which did not carry jail time. Her appearance in court on Tuesday was to regularize the judicial proceedings against her for contempt of court, and she will soon be summoned again to testify for her original disobedience charges.