'We hope National Day is for all Catalans one day': unionists on September 11
Spain's president claims he has reduced number of independence campaigners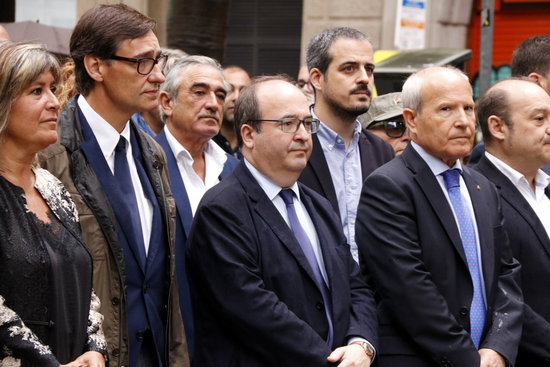 Spain's president, Pedro Sánchez, has said that the independence camp has seized the Catalan National Day, the Diada.
Referring to the celebration from the Spanish Congress on Wednesday, Pedro Sánchez said: "I hope one day the Diada is the celebration of all Catalans, not only some of them."
He also claimed that thanks to his government in the past year, the number of independence campaigners has decreased, based on the latest Catalan public survey on the issue, putting the Yes vote at 44%, slightly less than the previous survey.
"We have something to do with it as the Spanish government and how we are approaching the Catalan crisis," he said.
Yet he acknowledged that "there is a political problem" that needs to be resolved, and mentioned the possible reaction in Catalonia of a potential guilty verdict on the jailed leaders in the Catalan Trial.
Sánchez called for dialogue, as did the Catalan Socialist leader, Miquel Iceta.
Iceta also hoped that the jailed leaders' verdict doesn't prevent "a return to politics" in this affair.
Speaking to the press also in the Spanish congress, the People's Party (PP) MP Cayetana Álvarez de Toledo accused Sánchez of inaction, leaving the Catalan people "unprotected" facing the "attacks" of president Quim Torra.
The Catalan branch of PP head, Alejandro Fernández, called on Torra to step down. "His mandate as president is dead," he said. "If he can't even pass the budget, what uprising or self-determination will he lead?"
Fernández also went on to say that the pro-independence movement has "perverted" the National Day celebrations.
Ciutadans leader, Lorena Roldán, said in an event that millions of Catalans have "nothing to celebrate" on today's National Day because of president Quim Torra.
Roldán claims that Torra and the Catalan government have "excluded" many.