Unionists call government 'irresponsible' for authorizing National Day rallies despite pandemic
Opposition head accuses pro-independence parties of excluding most Catalans from 'Diada' celebration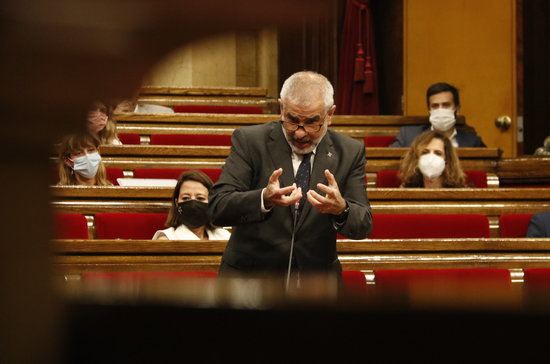 As Catalonia celebrates a National Day under coronavirus restrictions on Friday, unionist parties criticize the government for authorizing pro-independence rallies, even with protest organizers pledging strict safety measures.
"Today, the [Catalan] government has imposed Covid-19 restrictions on everyone but then lets the Catalan National Assembly call on dozens of thousands of people to gather despite health authority recommendations to the contrary," said Carlos Carrizosa, the leader of Ciudadanos party and head of the opposition in the Catalan parliament.
"I want to send a message of support to all Catalans who will stay home and see how protests are called irresponsibly amid a pandemic."
Carrizosa insisted that ever since the pro-independence camp turned Catalonia's National Day on an annual show of force, most Catalans feel excluded from September 11 celebrations, which he says "only represent separatists."
Meanwhile, Daniel Serrano, of the Catalan People's party, called for an election in Catalonia "as soon as the epidemiological situation allows one to be held" and says his party is "committed to creating a government free from populism."
Socialists pledge "dialogue within the constitution"
In a tweet, Spanish president Pedro Sánchez greeted Catalans on their National Day, insisting that the 'Diada' should be "everyone's" celebration and promising "dialogue within the constitution" — meaning that while he is willing to talk to pro-independence parties, concessions regarding self-determination are highly unlikely.
Unlike other unionist parties, the Catalan branch of Sánchez's Socialist party, headed by Miquel Iceta, joined the traditional National Day floral tribute to the statue of Rafael Casanova, the chief commander of Catalonia during the War of Spanish Succession on September 11, 1714, the day when Barcelona fell to the Borbonic troops.
Miquel Iceta stressed his party's commitment to tackling concerns shared by all Catalans: "Reactivating the economy, social reconstruction, and strengthening the welfare state."