Unionist party calls on Sánchez to resist pro-independence 'blackmail'
Cs leader argues against Spanish president holding talks with Catalan president, saying Torra is "not a valid interlocutor"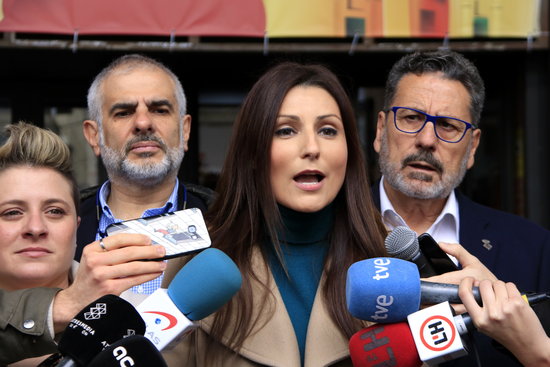 The unionist Cs party has hit out against the talks between the Spanish and Catalan authorities, asking president Pedro Sánchez to stop giving into "blackmail" from the pro-independence camp and to stop "legitimizing" Catalan president Quim Torra.
The head of Cs in Catalonia, Lorena Roldán, said Torra is "not a valid interlocutor because he has been disqualified by the judiciary," referring to the Catalan president's conviction for disobedience, which led Spain's electoral commission to order he lose his seat as an MP.
"Torra does not want dialogue, all he wants is to talk about how and when to separate Catalonia from the rest of Spain," said Roldán, who called on the Catalan president to "step aside," after Spain's Supreme Court backed the electoral commission's decision.
Sánchez met with Torra in Barcelona at the beginning of the month, the first time the two presidents had talked in over a year, with both leaders making a commitment to begin bilateral talks on the Catalan conflict before the end of the month.
Yet, Cs rejects the talks, accusing Sánchez of giving into the pro-independence camp, describing the negotiations as "not dialogue, but blackmail." According to Roldán, "the separatists will again demand more privileges for themselves but not for all citizens."
Coalition against "threat of nationalism"
With a Catalan election on the horizon, Roldán also addressed her party's support for a coalition with the also unionist PP conservative party in Catalonia, the Basque Country and Galicia, which she described as "territories threatened by nationalism."
Insisting that Cs is "putting the interests of Spain before those of the party," Roldán called on the PP party to help "unionists join forces" so that "not a single vote is lost" in the efforts to "halt the threat of nationalism."