Unionist head will resume talking with pro-independence lobby if it abandons 'illegal means'
People's Party leader in Catalonia calls for renunciation of "unilateralism" as precondition for unblocking political stalemate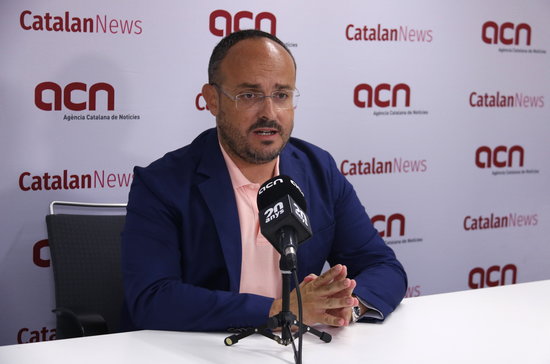 The head of the People's Party in Catalonia (PPC), Alejandro Fernández, says his party is open to "once again talking" with the pro-independence parties, but on the condition they abandon "illegal means" in trying to achieve their political aspirations.
Talking to the Catalan News Agency, Fernández demanded "an explicit renunciation" of "unilateralism" by the pro-independence lobby: "If only they would explicitly give up on illegality, then everyone could speak to each other," he said.
The Catalan affiliate of the Spanish PP, which was in government at the time of the independence bid in 2017 and went on to suspend Catalan self-rule, the PPC has been a fierce opponent of the pro-independence movement in Catalonia.
"The law must be complied with"
Above all, Fernández insisted on the parties in favor of a Catalan republic remaining within the law: "The two million independence supporters deserve the same treatment as I do, neither better nor worse, and that they be told the truth, that the law must be complied with."
Yet, the PPC leader ruled out a reform of the constitution as a solution to the political conflict, saying that such a change cannot be done for one specific group of people, and "has to have a generic vocation for the 47 million Spaniards."
On the idea of an amnesty for the Catalan leaders tried in the Supreme Court for their part in the independence bid, Fernández said, "I don't think an amnesty fits at all with the scenario we are in," and he urged accepting the high court's verdict "whatever it might be."