'Unfair trial, judges at the service of Spain's unity': suspended speaker to appeal conviction
Laura Borràs defends innocence and says her case is aimed at 'destroying independence movement'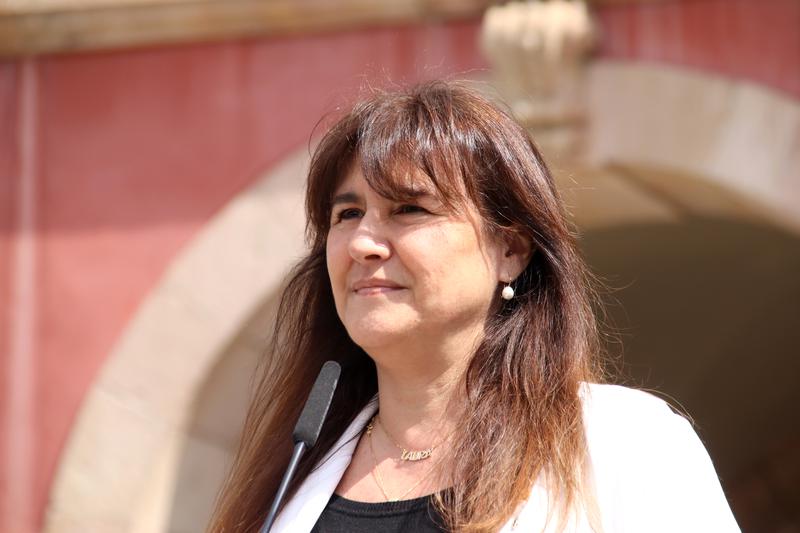 The suspended speaker of the Catalan parliament, Laura Borràs, believes that her conviction for helping a friend get public contracts without tenders is another example of "repression" against the independence movement.
Reacting to the Catalan high court's decision on Thursday outside the chamber, she said she had an "unfair trial" because magistrates were not impartial.
"Judges are at the service of Spain's unity," she said in a statement without accepting questions from the press.
"I have been able to prove my innocence before the court, but this has not been enough to avoid the judicial and democratic aberration from Spain."
She suggested she will appeal the decision, which is not final, because she assured that some court will side with her in the future.
Indeed, she added that she is not giving up either legally or politically.
"This sentence, which is neither fair nor final, will not prevent me from continuing to work for the sole aim I have since I entered politics: achieving the independence of Catalonia."
"I rebel in the face of injustice. I am an honest person, and I haven't committed any crime," she added.
Future for Borràs
Laura Borràs was suspended as parliament speaker when she was indicted and sent to trial – it is now likely that in the coming days, she is ousted from her parliament seat as well as her position as speaker.
During her statement, she wondered whether Catalan parties will "make the most of the effects of repression."
If she is obliged to end her stint as speaker, the position will be vacant and a successor will have to be appointed.
Borràs was backed by a number of MPs and officials from her party, Junts, outside the parliament. Former Catalan president Quim Torra also joined to show his support and told the press that pro-independence parties should leave the post vacant.
"No one succeeded me as president nor as MP when I was ousted," he said, referring to his own disobedience sentence for failing to remove a poster supporting pro-independence jailed leaders from the government headquarters.