Torra makes court appearance over yellow ribbons controversy
President pledges to defend freedom of speech at High Court as hearing on symbols in solidarity with jailed leaders begins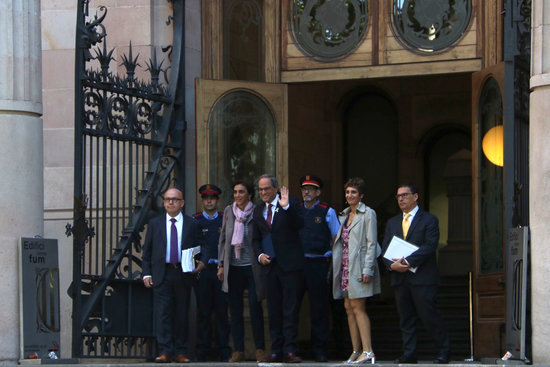 President Quim Torra appeared in a criminal court on Wednesday as part of an investigation into possible civil disobedience over his refusal to remove republican flags and pro-independence yellow ribbons from public buildings during the Spanish election campaign.
Torra spent approximately 40 minutes responding to questions from Catalonia's most senior prosecutors, related to his initial refusal to order the symbols to be taken down and his belated decision to have them replaced by other banners in favor of civil liberties.
Yet he rejected responding to far-right Vox party, acting as private prosecutor, "for democratic decency."
In a statement on social media before arriving at the High Court in Barcelona, the head of the Catalan government vowed to call out the Spanish state for "authoritarian drift" after its electoral authority ruled that symbols of support for imprisoned and exiled leaders of the independence movement were a breach of election impartiality regulations.
Torra added he was committed to defending freedom of expression "whatever the consequences".
Solidarity
Representatives from the government, as well as pro-independence political parties and organizations, lined the street leading up to the court in solidarity with Torra.