President defies electoral authority, keeps yellow ribbons on public buildings
Quim Torra challenges electoral authority decision to remove "partisan symbols" from government façades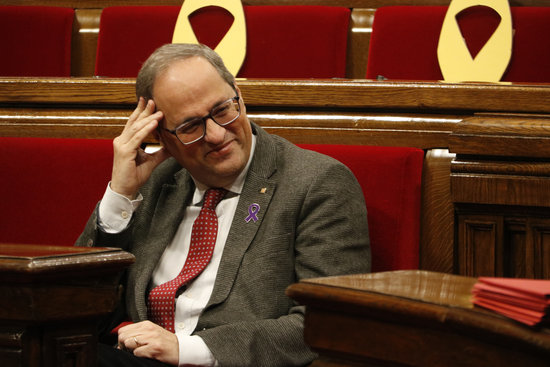 Catalan president Quim Torra has announced he will keep yellow ribbons in public buildings' façades, thus defying orders from Spain's electoral authority deeming them as "partisan symbols" that should be removed during election periods. He said this is in part due to "legal difficulties."
Following a complaint by unionist Ciutadans (Cs) party, the electoral authority gave Torra a 48-hour deadline on Monday to take down all Catalan independence flags and yellow ribbons—a symbol in support of jailed and exiled pro-independence leaders.
Torra challenged the electoral authority decision and urged the public body to reconsider its decision.
Cs said before end of deadline it would take further action
According to Cs spokesman, Carlos Carrizosa, if Torra did not have the symbols removed before the deadline, his party would appeal to the electoral authority to take action and, if necessary, take the issue to the courts.
At the same time, Cs has put forward a motion in the Catalan parliament to condemn the government for "taking advantage" of its authority to turn public buildings into "showcases for separatist propaganda."
"Symbol of repression," says minister
So far, pro-independence parties had already condemned the decision before rejecting to comply with it.
"[Yellow ribbons] aren't partisan symbols, they reject repression of fundamental rights in Spain. And many people agree," said Jordi Puigneró, the minister for digital policy. "[Yellow ribbons] don't stand for a specific political party. Therefore, they aren't partisan symbols."
Potential penalties for non-compliance
The Spanish justice minister, Maria Dolores Delgado, had also warned Torra that failure to comply with the order would lead to penalties on behalf of the electoral authority, which could react in one of two ways.
The first option is that the authority issues a fine of between 300 and 3,000 euros. The second is that the authority refers to the case to the public prosecutor, who would then decide whether to press disobedience charges.