Supreme Court cannot issue arrest warrant without EU parliament permission, Puigdemont argues
Ex-president says judges do not have authority to try him in response to new charges after penal code reform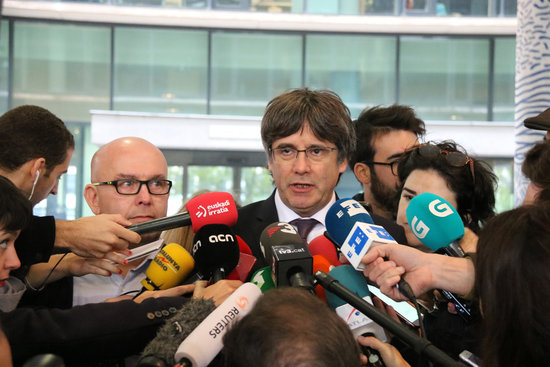 The Catalan former president, Carles Puigdemont, argued in a written statement before the Supreme Court that its magistrates do not have the authority to try him.
In his response requested by judge Pablo Llarena after issuing a fresh Spanish-wide arrest warrant against him following the penal code reform, he said that the Supreme Court cannot try him due to his current status as MEP.
His defense said on Friday that Spain's judiciary would need to first ask for formal permission from the European Parliament before issuing such an arrest warrant – in March 2021, the EU chamber already allowed Spanish authorities to proceed with their extradition request by lifting Puigdemont's immunity, but the MEPs vote to enable it pending the European Court of Justice's go-ahead after Puigdemont appealed his colleagues' decision.
Also, the leader of the 2017 independence push argues that he already has an ongoing case in Spain's Court of Auditors and it is not possible to be tried for the same events in two different courts.
His plea also anticipates that his defense will file six references for preliminary rulings before the EU court about these issues, that is, they will seek clarification on how to interpret the law in this case and how to proceed.
The European Court of Justice's interpretation is binding. Although such a reference can be made only by the national court itself, all the parties to the proceedings before that court may take part in the proceedings before the EU magistrates.
Supreme Court wants Puigdemont for misuse of public funds and disobedience
The recent penal code reform has changed the charges the exiled leaders face, with the judge handling the case of the 2017 independence leaders dropping the charge of sedition but keeping misuse of public funds – which carries up to 12 years behind bars – as well as disobedience – a non-imprisonable offense.
Yet, the public prosecutor wants harder indictments and has requested aggravated public disorder charges – which replaces the now revoked crime of sedition – in the accusations. Spain's solicitor general has also requested aggravated public disorder charges for Puigdemont and the other exiles.
After hearing all parties in the case, including the defense lawyers, Supreme Court judge Pablo Llarena will make a decision and may issue fresh European arrest warrants.
This could happen either before or after the European Court of Justice decides on Puigdemont and two more exiles' immunity, and also on whether Belgium's decision to reject extraditing former culture minister Lluís Puig was lawful. This ruling, which will be announced on January 31, could impact the fate of all exiles.