Public prosecutor files aggravated disorder and misuse of funds charges against Puigdemont
Accusations against former Catalan president revised after sedition was removed from penal code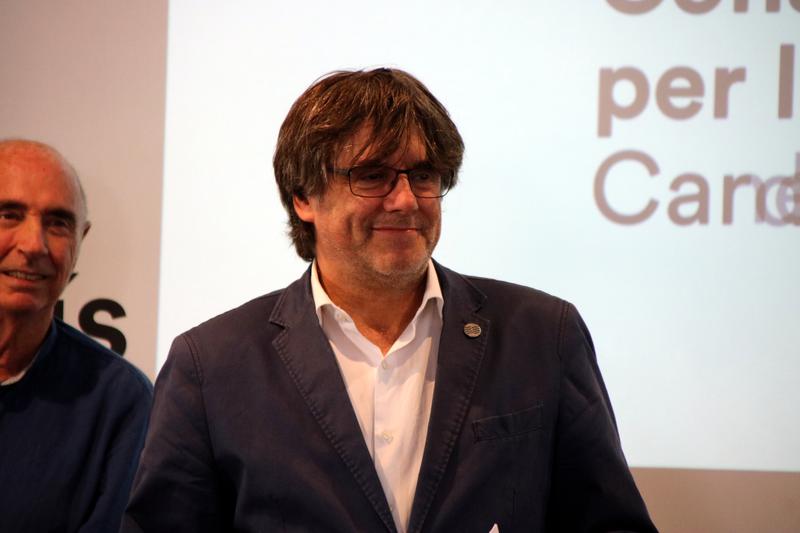 Public prosecutors of the Spanish Supreme Court have filed fresh charges of aggravated public disorder and misuse of public funds against former Catalan president Carles Puigdemont and former ministers Toni Comín and Clara Ponsatí.
This is in response to Supreme Court judge Pablo Llarena's decision last week to drop charges of sedition against the three members of the Catalan cabinet at the time of the 2017 independence referendum. The move came on the day the reformation of the penal code came into force on January 12, removing the crime of sedition and replacing it with aggravated public disorder.
Public prosecutors request that a potential future trial focus not only on the charges in the judge's decision but that it be extended to aggravated public disorder, which has a higher penalty.
Misuse of funds can carry prison time of six months and up to five years if the politicians are convicted. The new text also sets a punishment of between three and five years imprisonment for "aggravated public offenses" whose purpose is "to affect public order seriously."
In the ten-page document, the four prosecutors believe that those investigated should be charged with the crimes of disobedience, misuse of public funds, and aggravated public disorder.
For the prosecution, the court said in October 2019 that "tumultuous acts with a result of grave public order alterations took place, with traffic cuts, invasion of buildings and installations gravely affecting the work of the judiciary, acts of intimidation, and violence against people and material," the text reads.
They argue that if members of the Catalan government at the time, such as Oriol Junqueras, Raül Romeva, Josep Rull, and Jordi Turull, former parliament speaker Carme Forcadell, and activists Jordi Sànchez and Jordi Cuixart were convicted of sedition, in that case, the president of that government and other ministers, should also be responsible for those acts.
Regarding the other cabinet member who left Spain after the 2017 referendum, culture minister Lluís Puig, the prosecutor's office requests for him to be charged with disobedience and misuse of funds. For Esquerra Republicana's secretary general Marta Rovira, the prosecutor asked for her to be charged with the crimes of disobedience.
Government has "not negotiated" for Puigdemont
During the weekly press briefing after the government's cabinet meeting, the executive's spokesperson did not enter into any details about the prosecutor's request.
However, "the government has never negotiated for former president Puigdemont, as he requested," Patrícia Plaja, the cabinet spokesperson, said.
On the other hand, the leader of the anti-austerity En Comú Podem party, Jéssica Albiach, hopes that the judges' decision will prevail instead of the one requested by the prosecution.
"It does not make sense that he is charged with a crime that did not even exist," she said during a press conference.