Spotlight on Catalonia: what to expect of debate to name Spanish president
Deciding whether Pedro Sánchez stays in power or not may be down to pro-independence parties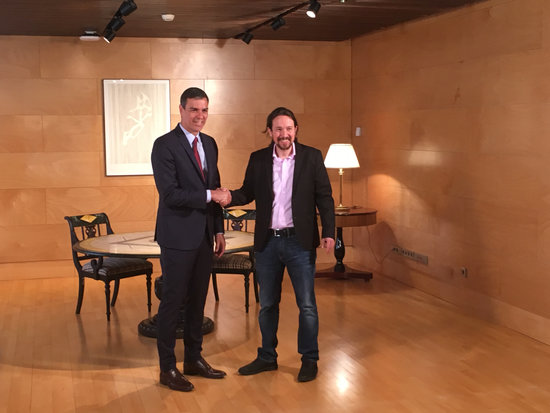 From Monday to Thursday next week, Pedro Sánchez will try to garner the support of Spain's congress to remain in power for a second term – but it is not clear if he will succeed. And disagreement over the solution to the Catalan independence conflict might be partly responsible for that.
The debate will begin on Monday at noon with a statement by the Socialist candidate for president, followed by a discussion with all of the chamber's groups.
The first round of votes will be held on Tuesday, and Sánchez will need an absolute majority of seats to succeed – if he fails, a second round will take place on Thursday, and a simple majority will be enough.
Here are the five keys on what to expect of the debate:
1. Not a clear bid
Sánchez needs the support of left-wing Unidas Podemos and some of the chamber's smaller groups, but whether he will receive it is unclear.
Unless there is an eleventh-hour deal, the Socialists and Unidas Podemos won't be able to strike a deal – the latter asked for its leader, Pablo Iglesias, to be vice president, but Sánchez said he would only accept a coalition government with some Unidas Podemos' members not including their head.
On Friday evening Iglesias said he would not step in the way of an agreement if he is the main obstacle to it, but did not back down on his demand to have some of his party members in the cabinet.
2. Catalonia and the Spanish left-wing rift
The Catalan issue is one of the topics that causes the most distance between both mainstream Spanish left-leaning forces. The Socialists favored the suspension of Catalonia's self-rule as a result of the 2017 independence bid, while Podemos was against it.
Indeed, Pedro Sánchez admitted on Thursday that the main obstacle to accepting Iglesias in his government is his stance on Catalonia.
Talking to La Sexta TV channel, Sánchez said that "the conditions for making Iglesias a cabinet member do not exist," due to his defense of jailed Catalan independence leaders as "political prisoners," and his support for a self-determination referendum in Catalonia.
3. Pro-independence parties' uncertain stance
The two Catalan pro-independence parties in Spain's congress might be key for Sánchez's bid to remaining in power for a second term.
On Friday, after separate meetings, neither of them wanted to clarify their stance – yet Esquerra said that it would be a "historic mistake" to contribute to the failure of a left-wing government leading to a snap election and a potential victory for the right.
Junts per Catalunya officials said they would decide on Monday after listening to Sánchez's opening statement, but added they have "a lot of reasons to vote No." The abstention of one of them could be enough for Sánchez.
4. Independence issue poised to be top topic in debate
The independence issue is expected to the most debated issue, as it was in the recent Spanish electoral campaign and over the past few years.
Right-wing Ciudadanos, People's Party and far-right Vox all accuse the Socialists of allying and working with pro-independence parties, which they call "coup-mongers," on the grounds that Sánchez ousted right-leaning leader Mariano Rajoy with their support.
They have also harshly criticized the fact that Sánchez has twice met with the Catalan president, Quim Torra, over the past year.
At the other end of the political arena, the pro-independence MPs will show outrage at the imprisonment of their leaders and the rebellion and sedition allegations, as well as at the fact that five of them were suspended as Spanish lawmakers shortly after taking up their seats.
5. Clock running towards automatic snap election
If Pedro Sánchez misses this opportunity to continue as Spanish president, MPs will have two months to find consensus over a candidate – if they fail to do so, a snap election will be automatically called in mid-September for November 10, 2019.
The debate might be key for parties ahead of a potential second electoral campaign.