Spanish police officer suspended over video mocking pro-independence supporters
Video shot from the inside of a police van while jailed Catalan leaders were being transferred to Madrid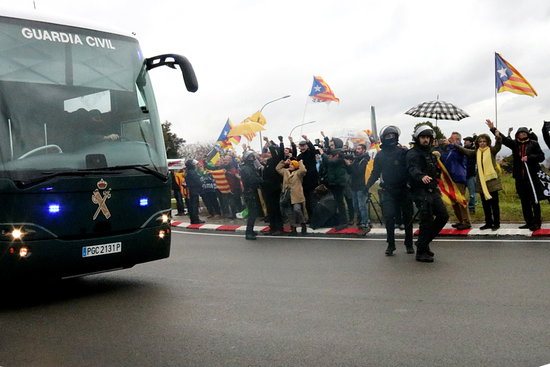 Spain's Guardia Civil police has suspended an officer for a video mocking pro-independence supporters protesting while jailed Catalan leaders were being transferred to Madrid, where they will be tried for the 2017 push for independence.
Shot from the inside of a police van, the video shows pro-independence supporters bidding farewell to the imprisoned politicians and activists while police officers laugh at them.
The video was widely shared in the social media, sparking outrage among Catalan parties.
Los golpistas ultranaZionalistas presos, parten hacia Madrid. Únicamente varias decenas de tristes, han acudido a despedirlos. Se acabaron los aquelarres junto a las carceles.

Beautiful!! 👏👏👏👏👏#adeugolpistes
Freedom of #Catalonia from ultranationalists and secessionists pic.twitter.com/kb0gmYGfWH

— Espíritu indomable (@Esprituindomab1) February 1, 2019
The Guardia Civil director general, Félix Azón, ordered the police officer who shot the video be suspended and assured that disciplinary measures would be taken.
Nine jailed leaders were held in three Catalan prisons for the last seven months. Around 6am, the Catalan police moved them all to one, Brians II, where the Spanish Guardia Civil police took over their escort, to transfer them all in one vehicle to two Madrid prisons. They arrived in the afternoon.
Rebellion accusations
Pro-independence leaders face rebellion accusations for calling a referendum and declaring independence despite Spain's opposition in October 2017. Some have been in pre-trial held behind bars for more than a year.
On Friday, the Supreme Court announced that the trial will start on February 12. It is expected to last three months and its outcome could have critical consequences for Catalonia and Spain.