Spanish PM reiterates willingness to reform crime of misuse of public funds
Catalan governing party Esquerra considers change not to be used to chase pro-independence figures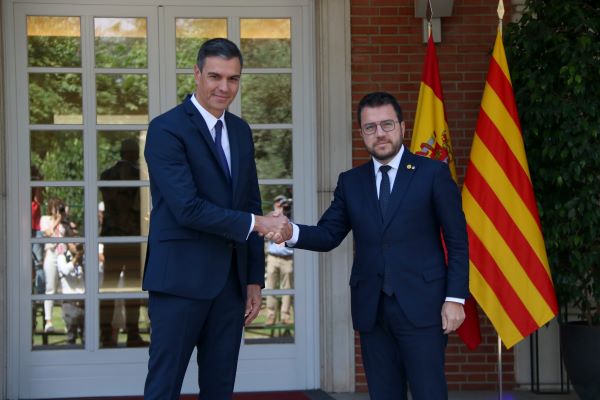 The Spanish government is, once again, willing to study a reform of the crime of misuse of public funds, as announced on Tuesday by PM Pedro Sánchez and underlined on Wednesday by members of the cabinet.
The executive would take the opportunity to change the legislation following the current crime of sedition reform in Congress.
Friday is the deadline for MPs to present amendments to the penal code reform, and after that, the cabinet will consider the proposals made by political parties.
The Socialists (PSOE) do not consider reforming the current charges will mean having more lenient sentences for those who are charged with corruption, but instead they want to adjust the crime to equivalents seen in other European countries.
"The reform is not a step backwards in the fight against corruption," Spanish defense minister Margarita Robles said during an interview with Spanish TV channel Telecinco.
"Enrichment will not be accepted at all," she added, as her party, PSOE, will reject any amendment that allows more lenient sentences for those charged.
Meanwhile, the Catalan president, Pere Aragonès, hopes the reform will be a step forward in stopping "repression" against pro-independence politicians and activists.
"We expect progress in the coming days to put an end to all forms of repression. The Catalan government is committed to this," he said during a press conference in the southern town of El Vendrell. The new charges should help "end political repression" according to Aragonès, while he awaits a deal to "continue the dejudicialization" of the political conflict.
As such, Esquerra Republicana de Catalunya, the current governing party in Catalonia, will present amendments to the reform of the penal code to ensure it also includes the crime of misuse of public funds.
With the reform of the law, ERC want to put an end to charging pro-independence figures with misuse of public funds, as seen during the 2017 self-determination referendum – something the Catalan leader already warned of in mid-November.
Sedition reform
In 2019, nine Catalan pro-independence leaders were found guilty of sedition for their roles in the independence push of 2017. In early November, Pedro Sánchez announced that the crime of sedition would be struck from the penal code – a decision that will have a huge impact on Catalan and Spanish politics.
Learn more about it on our Filling the Sink podcast episode.