Spanish army was ready to act in Catalonia, says defense minister
"We hope this does not mean more violence against peaceful people," Catalan Parliament president answers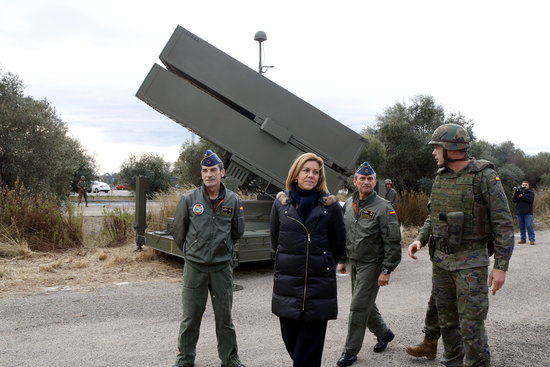 The Spanish army was ready to act in Catalonia at any time in the peak of the tension between Barcelona and Madrid this autumn. This is what the Spanish defense minister, María Dolores de Cospedal, said in an interview to ABC newspaper on Saturday. "We were ready because we had the obligation of being ready, otherwise we would be useless," she said. "I would not have had any sense of responsibility, nor the military commands, if they had not been ready for any eventuality," she added.
Cospedal also praised the Spanish army because "there has not been any comment, any inappropriate comment, and any misinterpreted action" by soldiers in the past few months despite the tension. Yet she did not comment on the video of a man on a Spanish tank threatening Carles Puigdemont. The Catalan Parliament president, Carme Forcadell, answered the Spanish defense minister via Twitter. "We hope this does not mean more violence against peaceful, democrat and defenseless people," she wrote on the social network.
Imprisoned leaders for the Three Kings Day
Forcadell published another tweet referring to the four pro-independence leaders who have been in prison for more than 2 months. "Today is a sad day, the Three Kings will come, but 4 fathers will not be able to be with their kids, we want you home," she said on the Three Kings Day's Eve. According to the tradition, three kings coming from the East deliver presents to Catalan children in the small hours of January 6.