Spain's government lawyers request reduction of disqualification penalties for referendum leaders
Solicitor general asks Supreme Court to halve ban from holding public office after reform of criminal code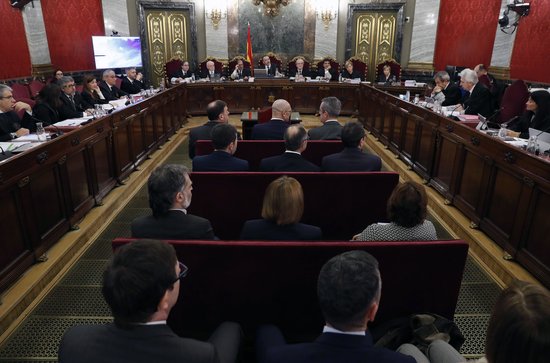 The Spanish government legal representatives in the 2017 Catalan referendum trial, the solicitor general, has requested to halve the disqualification penalties for the independence leaders.
They believe that the reform of the criminal code, which came into effect in January 2023, has to carry a reduction of their bans from holding public office they are serving, ranging now from 9 to 13 years.
The amended law saw the removal of the crime of sedition and modification of misuse of public funds.
On Thursday, the solicitor general requested to reduce the disqualification for former Catalan vice president, Oriol Junqueras, from 13 years to 7 years.
Former ministers Raül Romeva, Jordi Turull and Dolors Bassa, sentenced to 12 years, should see their bans from holding a public office drop to 6 years and 9 months.
Also former ministers Joaquim Forn and Josep Rull, serving 10 years and 6 months at the moment, would see it adjusted to 6 years and 3months.
As for former Catalan parliament speaker, Carme Forcadell, sentenced to 11 years and 6 months of disqualification, the solicitor general wants to see her only face 6 years without running in elections or holding public posts.
The Spanish government legal representatives also believe that 2017 referendum leading activists Jordi Sànchez and Jordi Cuixart should face four years of disqualification, and not nine.
All nine 2017 independence referendum leaders were also sentenced to the same times in jail, but were pardoned by the Spanish government in June 2021. This meant they no longer had to serve time in jail but their disqualifications were not lifted.
The solicitor general's stance differs from that of the public prosecutor, and in some cases significantly.
Indeed, Supreme Court public prosecutors requested on Wednesday that the disqualification penalties imposed on some of the 2017 independence referendum leaders not be reduced.
The attorneys asked for Oriol Junqueras (13 years), Raül Romeva, Jordi Turull, and Dolors Bassa (12) to have their disqualification sustained after the crime of sedition, for which they were convicted, was removed from the penal code. The crime of misuse of public funds, another crime the independence leaders were convicted of, was also modified in the criminal code reform, lowering the punishments for this crime.
However, the prosecuting attorneys have opened the door for the penalties of the other referendum leaders to be reduced.
They also request that Carme Forcadell's sentence be reduced from 11 years and six months to nine years and two months, Quim Forn and Josep Rull to have their sentences reduced from 10 years and six months to eight years and two months, and for activists Jordi Cuixart and Jordi Sànchez to have their penalties lowered from nine years to five.