Prosecutors request to keep disqualification penalties for some referendum leaders
Attorneys ask for highest-ranking former leaders to still be barred from public office but sentences for others to be reduced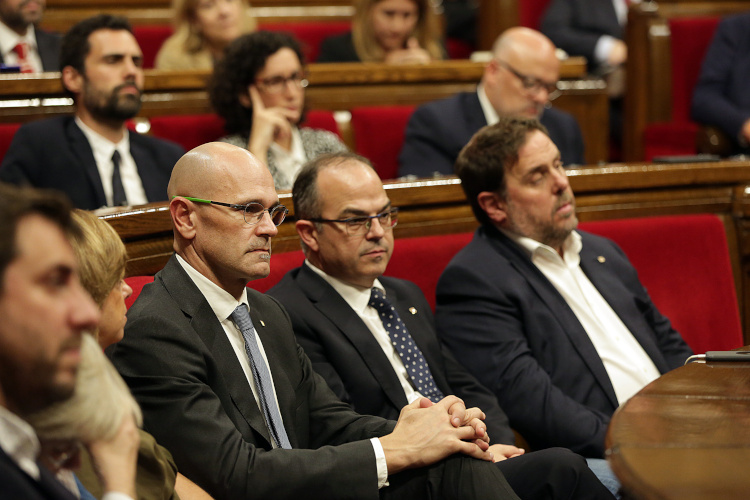 Supreme Court prosecutors have requested that the disqualification penalties imposed on some of the 2017 independence referendum leaders not be reduced.
The attorneys have asked for Oriol Junqueras (13 years), Raül Romeva, Jordi Turull, and Dolors Bassa (12) to have their disqualification sustained after the crime of sedition, for which they were convicted, was removed from the penal code. The crime of misuse of public funds, another crime the independence leaders were convicted of, was also modified in the criminal code reform, lowering the punishments for this crime.
However, the prosecuting attorneys have opened the door for the penalties of the other referendum leaders to be reduced.
They also request that Carme Forcadell's sentence be reduced from 11 years and six months to nine years and two months, Quim Forn and Josep Rull to have their sentences reduced from 10 years and six months to eight years and two months, and for activists Jordi Cuixart and Jordi Sànchez to have their penalties lowered from nine years to five.
When the criminal code reform came into effect in January 2023, the leaders of the 2017 independence referendum were able to have their sentences revised, as they had been convicted of sedition and misuse of public funds in 2019, as they were before the alterations to the penal code.
They were given prison sentences of between 9-13 years, but were released from jail when they were pardoned in 2019, although their punishments of disqualification from holding public office were kept.
Prosecutors argue that what Junqueras, Romeva, Turull, and Bassa did during Catalonia's independence push should count as serious misuse of public funds, which still carries lengthy disqualifications from public office.
The criminal code articles outlining serious misuse of public funds imply penalties of between 10-20 years of disqualification, and therefore, despite the fact that their sentence established they had committed these crimes in the framework of the now repealed sedition law, prosecutors maintain that it is necessary to keep the disqualification punishments.