Spain's defense committee meeting with EU Parliament spyware inquiry canceled again
MEPs "disappointed" because of "technical issues with the interpretation"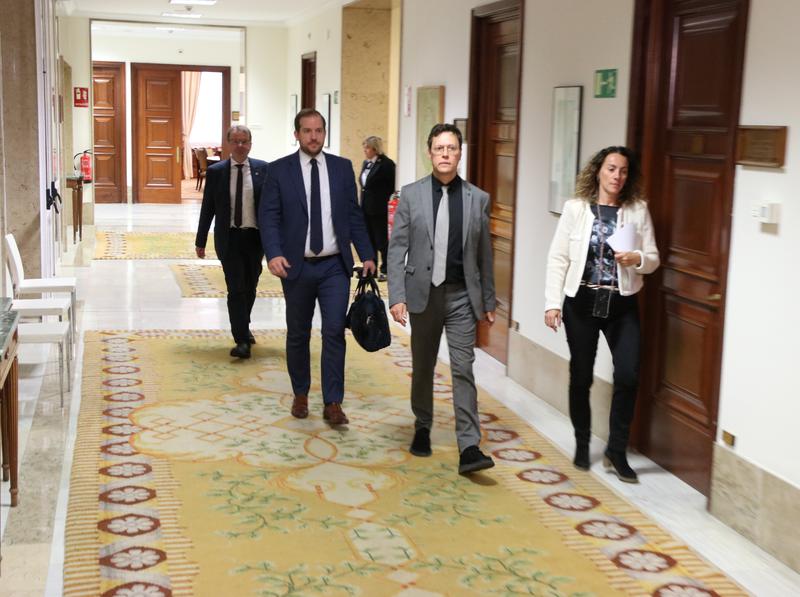 The meeting between the Spanish defense committee and the European Parliament committee investigating the use of Pegasus spyware within the EU was canceled last minute due to "technical issues with the interpretation," as announced by the chair of the inquiry committee, Jeroen Lenaers, on Tuesday.
"It seems that under the current circumstances of the connection, we won't be able to have an interpretation of the meeting," Lenaers said at the start of the gathering as members of the Spanish committee were connecting remotely to the EU Parliament after not being able to meet in person during the EU mission to Spain last week.
After the session was delayed, Lenaers said he felt "very disappointed," as "it is unfortunately not the first time we have been confronted with these issues." The many "creative proposals for solutions," were not "acceptable for our interpretation," so the meeting had to be canceled.
According to the interpretation services in the European Parliament, the technology "is not adequate for interpretation," even though those attending the conference room considered that the "quality was more than adequate to understand what [members of the Spanish defense committee] were saying," Lenaers said.
The committee's mission to Spain in mid-March was called following the revelation last year of dozens of members of Catalonia's pro-independence movement were found to have had their devices hacked with the Pegasus spyware.
Phones of at least 65 Catalan politicians and civil society members were infected with spyware between 2017 and 2020 on several occasions as an investigation from The New Yorker magazine and Citizen Lab research group shows.
The espionage case known as Catalangate has already had political and judicial consequences.
"Shameful"
Former Catalan president and current MEP Carles Puigdemont considered the cancelation "shameful" as he did not see "at all" any technical issues that justified calling the meeting off just at the "start of a very sensitive topic."
"It is inadmissible. It is even embarrassing," Puigdemont tweeted.
Amnesty International criticizes use of spyware
Amnesty International's 2022-2023 report on the state of human rights across the globe criticizes the use of Pegasus spyware in Spain "to target the mobile phones of prominent Catalan politicians, journalists, lawyers, and their families."
The NGO expresses its "concern" regarding this affair and highlights that the head of Spain's National Intelligence Service (CNI) "admitted that several pro-independence Catalan politicians had been spied on."
It also mentions that prime minister Pedro Sánchez's phone was also targeted, as was the interior minister's and that of the minister of defense, and while the Supreme Court has opened an investigation into this matter, "unrelated investigations by Catalan courts into the targeting of Catalan politicians and members of civil society remained stalled."