EU Pegasus committee questions why Spain acknowledges 'only 18 of 65 espionage cases'
Rapporteur blasts government for "stonewalling" investigation after fact-finding visit to Madrid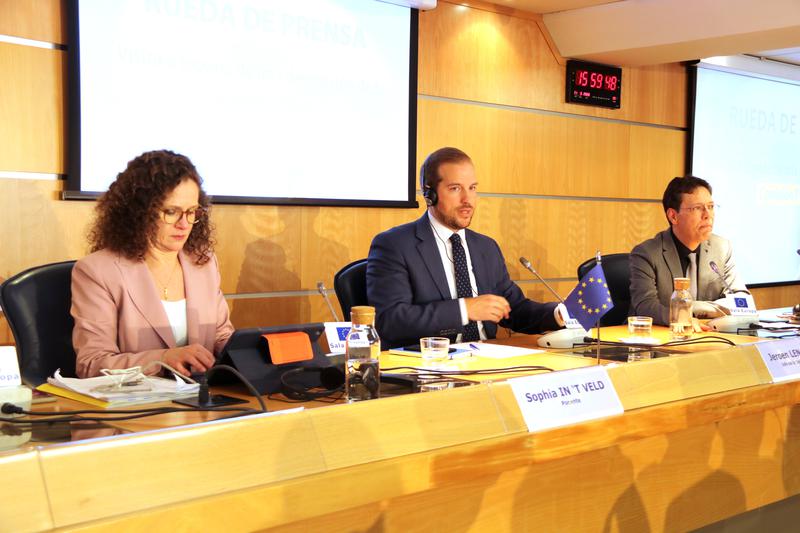 The EU parliament committee investigating the use of Pegasus and other spyware has concluded its two-day fact-finding trip to Madrid with a press conference in which it questioned Spain's acknowledgment of "only 18 of 65 espionage cases."
"It remains an open question how there are 47 other credible alerts of infection without evidence of a judicial proceeding against them," MEP Jeroen Lenaers, the committee chair, said in reference to the total number of people with ties to the Catalan independence movement who are thought to have been targeted with government-grade spyware but have not been recognized by Spain's National Intelligence Service (CNI).
Lenears and Sophie In 'T Veld addressed the media hours after meeting with Catalan president Pere Aragonès, foreign minister Meritxell Serret, and Barcelona councilman Ernest Maragall, all of whom have evidence their phones were infected.
"All governments have stonewalled investigation"
Lenaers and In 'T Veld waited two hours to meet with the Spanish Congress' defense committee before the gathering was canceled last minute due to the ongoing no-confidence motion against PM Pedro Sánchez taking place on Tuesday. This did not take place on the first day of their visit as Monday was a public holiday in the Madrid region.
"It is disappointing that we didn't get to meet more members of the government," Lenaers said. "But as I also said, I understand the circumstances in which our mission takes place and the timing of it."
In 'T Veld, however, was more critical of the lack of government involvement. "We have an understanding that these days were particularly difficult, but we have been doing this for a year. The government had opportunities to share all information they wanted," she said.
"All governments have stonewalled the investigation," she added, explaining that while they have met with government representatives including Pascual Navarro, the state secretary for European affairs, "they have never gotten any meaningful information."
Franco-era official secrets law
Both Lenaers and In 'T Veld lauded Madrid's commitment to reforming Spain's Franco-era official secrets law, but called on authorities to implement these changes before elections in late 2023 make doing so more difficult.
"It remains a question why the changes to the law and replacement of the CNI president took place if the action of state security bodies were actually legitimate," Lenaers said.
According to In 'T Veld, Spain's official secrets law hinders judicial investigations into espionage, a situation that creates a "vicious circle."
"The information was obtained mainly by Citizens Lab and Amnesty International, but if a victim files a complaint they have to have proof, but only the government can provide proof, so to get justice, you need to rely on the authorities behind the spying."
Increased transparency
The EU parliament committee argued that Spain does indeed have a "robust legal framework on paper," but said more measures needed to be taken to "ensure legal remedy to all cases" as many have been progressing slowly.
While a full list of recommendations will be published at a future date, In 'T Veld also said that Spain should enhance its definition of national security and invite Europol to investigate targeted devices.
"Can you use spyware in legitimate situations for terrorism?" In 'T Veld asked. "Yes, but we must be absolutely sure it cannot be used by EU governments against opponents and critics."