Spain's solicitor general asks leaders be tried for sedition and misuse of funds
Authority representing Spanish government in trial of pro-independence officials rules out rebellion charge but demands they serve 7 to 12 years behind bars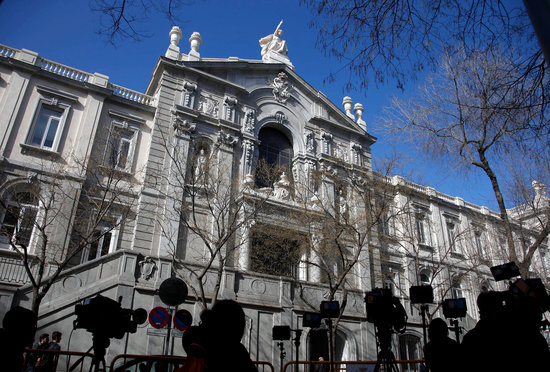 Spain's solicitor general has requested that the pro-independence leaders in jail be charged with sedition and misuse of public funds in the Spanish Supreme Court.
Unlike the public prosecutor, the authority representing the Spanish government in the trial against the October 1 referendum and declaration of independence ruled out rebellion charges in its official request on Friday.
Specifically, the solicitor general requested a 12-year prison sentence for former vice president Junqueras, and 11.5 years for former ministers Rull, Turull, Bassa, Romeva and Forn, all of whom are in pre-trial jail.
What's more, the Spanish government representatives demanded a 10-year sentence for former parliament president, Carme Forcadell, eight years behind bars for the grassroots leaders, Jordi Sànchez and Jordi Cuixart, and seven years for former ministers Borràs, Mundó and Vila.
All proposed sentences by the solicitor general total 116.5 years in jail.
On Friday, the general prosecutor also made its proposed sentences public, which total 177 years behind bars. On Monday, it will be the turn of the private prosecutor, the far-right Vox party.
Spain's 2019 budget
The Spanish government needs the pro-independence parties to pass the 2019 budget, and Esquerra and PDeCAT demanded a "gesture" from Madrid towards the absolution of all the officials involved and their freedom before the trial takes place.
Yet in the past few weeks, the country's top leaders said that lowering the charges but keeping prison would not be enough.
Here is the full list on the proposed sentences by the solicitor general:
Catalan government
1. Oriol Junqueras (in pre-trial prison): rebellion, 12 years in jail, 12 years barred from office
2. Joaquim Forn (in pre-trial prison): rebellion, 11.5 years in jail, 11.5 years barred from office
3. Dolors Bassa (in pre-trial prison): rebellion, 11.5 years in jail, 11.5 years barred from office
4. Jordi Turull (in pre-trial prison): rebellion, 11.5 years in jail, 11.5 years barred from office
5. Josep Rull (in pre-trial prison): rebellion, 11.5 years in jail, 11.5 years barred from office
6. Raül Romeva (in pre-trial prison): rebellion, 11.5 years in jail, 11.5 years barred from office
7. Carles Mundó (freed on bail): misuse of public funds, 7 years in jail, 10 years barred from office, 30,000-euro fine
8. Meritxell Borràs (freed on bail): misuse of public funds, 7 years in jail, 10 years barred from office, 30,000-euro fine
9. Santi Vila (freed on bail): misuse of public funds, 7 years in jail, 10 years barred from office, 30,000-euro fine
Grassroots leaders
10. Jordi Sànchez (in pre-trial prison): rebellion, 8 years in jail, 8 years barred from office
11. Jordi Cuixart (in pre-trial prison): rebellion, 8 years in jail, 8 years barred from office
Former parliament bureau members
12. Carme Forcadell (in pre-trial prison): rebellion, 10 years in jail, 10 years barred from office
13. Lluís Corominas (freed on bail): serious disobedience, 1 year and 8 months barred from office, 30,000-euro fine
14. Lluís Guinó (freed on bail): serious disobedience, 1 year and 8 months barred from office, 30,000-euro fine
15. Ramona Barrufet (freed on bail): serious disobedience, 1 year and 8 months barred from office, 30,000-euro fine
16. Anna Simó (freed on bail): serious disobedience, 1 year and 8 months barred from office, 30,000-euro fine
17. Joan Josep Nuet (freed without precautionary measures): serious disobedience, 1 year and 4 months barred from office, 24,000-euro fine
Other officials
18. Mireia Boya (freed without precautionary measures): serious disobedience, 1 year and 4 months barred from office, 24,000-euro fine
Exiled
19. Carles Puigdemont (in Belgium): in absentia, no sentences proposed
20. Toni Comín (in Belgium): in absentia, no sentences proposed
21. Clara Ponsatí (in Scotland): in absentia, no sentences proposed
22. Meritxell Serret (in Belgium): in absentia, no sentences proposed
23. Lluís Puig (in Belgium): in absentia, no sentences proposed
24. Marta Rovira (in Switzerland): in absentia, no sentences proposed
25. Anna Gabriel (in Switzerland): in absentia, no sentences proposed