Spain's prosecutor considering new extradition request against Puigdemont
Attorney general might ask Supreme Court to enforce third international arrest warrant if jailed leaders get guilty verdict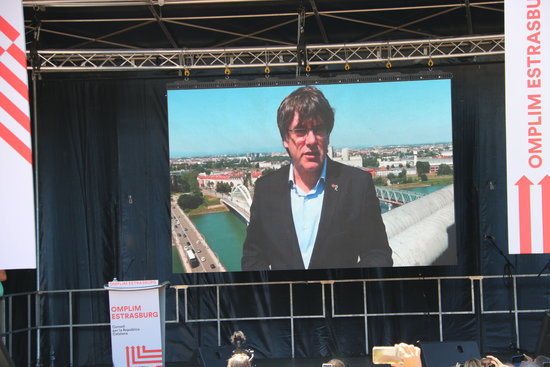 Spain's prosecutor is considering requesting a new international arrest warrant against former Catalan president, Carles Puigdemont, if his former cabinet members get a guilty verdict in the Catalan trial.
Sources of the attorney general said to the Catalan News Agency (ACN) that no decision has been taken yet, although Spanish digital newspaper 'eldiario.es' claims it is certain that they will ask the Supreme Court to enforce an international arrest warrant against the exiled politician.
If it happened, it would be the third attempt of Spain's judiciary to extradite Puigdemont after two failures.
Two failed attempts
Days after Puigdemont moved to Belgium to avoid Spain's judiciary following the declaration of independence and his subsequent sacking in October 2017, the Supreme Court issued the first international arrest warrant against him.
However, that warrant was withdrawn one month later, a few days before a Belgian court had to take a decision, with Puigdemont saying it was out of fear to lose the case.
In March 2018, the warrant was issued again and Puigdemont was arrested in Germany. The high court in Schleswig-Holstein agreed to extradite him again, but only for misuse of funds and not for rebellion, as requested by Madrid – yet Spain's Supreme Court decided to withdraw it again as it would not have been able to try him for rebellion.
Jailed leader not allowed to attend plenary session
Meanwhile, Spain's Supreme Court rejected on Monday the request by jailed leader Quim Forn to attend the next local plenary session in Barcelona city council. He was allowed leave to take up his council seat a month ago.