Spain's Guardia Civil raids Catalan government offices in big anti-referendum operation
Officers arrest 13 Catalan high-ranking officials in big anti-referendum operation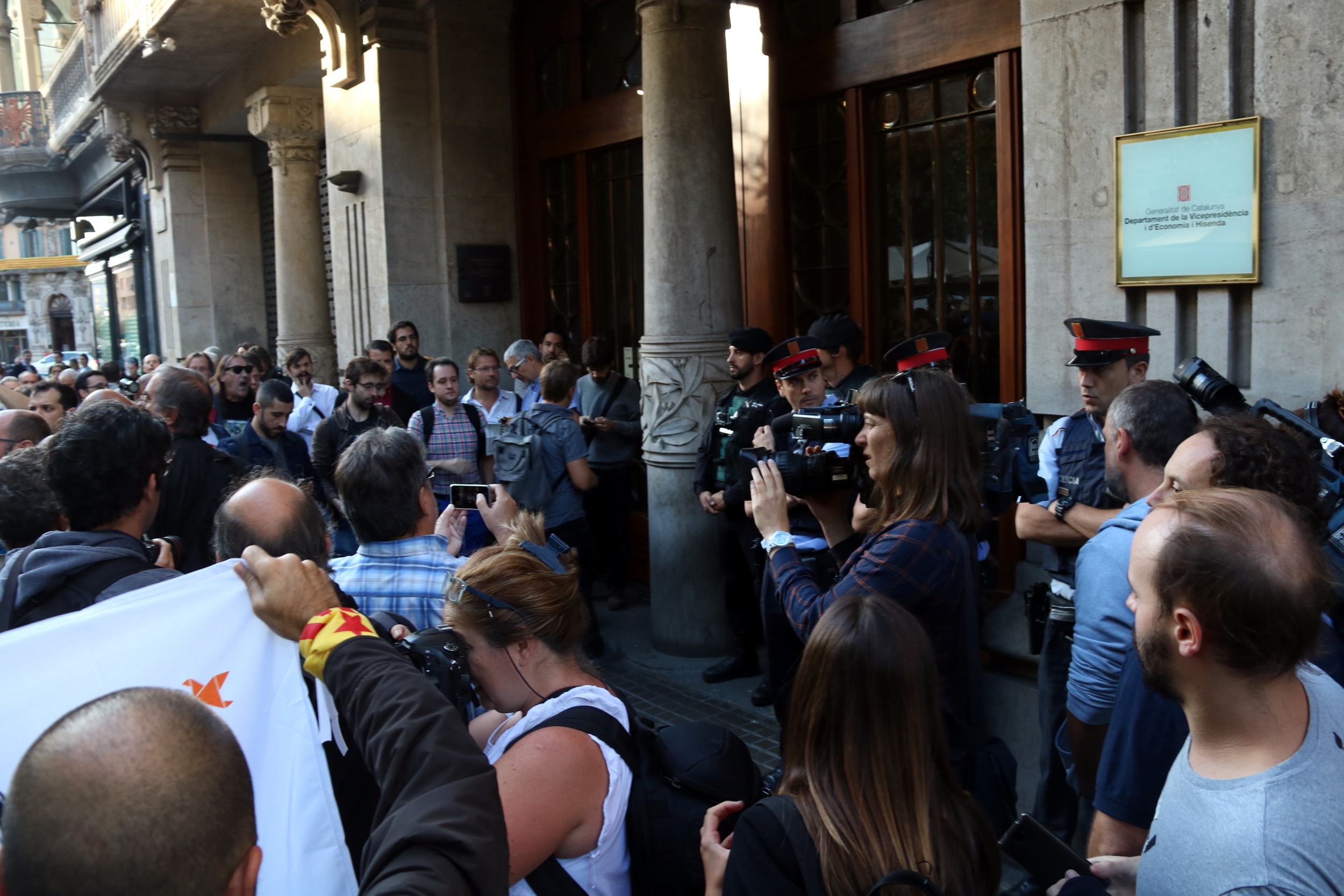 Spain has shifted up a gear this Wednesday morning. Military police Guardia Civil officers entered offices of three Catalan government ministries: Economy, Governance and Social Affairs. The raids started around 8am local time and they are part of a big operation against the October 1 referendum planned by the Catalan executive. The Catalan Vice Presidency and Economy secretary general, Josep Maria Jové, was arrested along with 12 people, all but one high-ranking officials.
In another police operation, Guardia Civil found the ballots for the October 1 vote in an industrial warehouse in the Catalan town of Bigues i Riells, near Barcelona, sources from the investigation have confirmed to ACN. Officers found ballots for both the 'yes' and 'no' votes as well as other referendum material and arrested one person.
Guardia Civil raids 22 buildings
Officers entered 22 buildings. Most of them are part of the Catalan government, including the Catalan Institute of Finances and the headquarters of the Telecommunications and IT Center. Some citizens gathered in front of the Economy department seat some minutes after the raid started in order to protest against the operation.
Spain's Guardia Civil has been raiding printing firms, newsrooms and delivery companies in the past few days in search of referendum material. Officers have confiscated 1.5 million posters and leaflets related to the vote and around 45,000 polling supervisor notices.
In elections in Catalonia, polling supervisors are randomly appointed among citizens after a draw. They receive a notice in the mail informing them that they are obliged to serve at a polling station. However, this time the Catalan government efforts to call polling supervisors as usual might be thwarted by the Guardia Civil.
Reactions
Today's operation has triggered the widespread condemnation of pro-independence political forces. Yet, the leaders of the Spanish left-wing Podemos party and its allies in Catalonia have also criticized the operation.
The leaders of the Spanish left-wing Podemos party and its allies in Catalonia have also criticized the operation. Civil rights can not be suspended," said Podemos leader, Pablo Iglesias, who labelled the situation as "shameful". Barcelona mayor Ada Colau said "it is a scandal for democracy to see institutions raided and elected officials detained for political reasons."