Spain's foreign affairs ministry greenlights new Catalan government offices abroad
Catalonia's new delegate seats in Mexico, Argentina, and Tunisia will be opened after a lengthy legal back-and-forth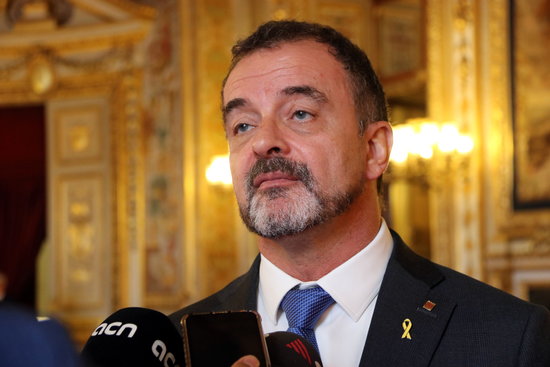 The government of Catalonia looks set to open new offices abroad after Spain's ministry of foreign affairs approved them for the first time.
The seats in Mexico, Argentina, and Tunisia have been planned to be opened for months, but were halted by legal challenges from Spain's former foreign minister, Josep Borrell, and the Catalan high court.
Specifically, the new Spanish government has seen no objection to the three decrees that the Government approved on Wednesday to reopen the offices in the south American and north African countries, sources from the ministry of foreign affairs confirmed.
The Catalan high court had previously provisionally suspended them after a Spanish government appeal. The same sources explain that the ministry of foreign affairs proposed "a series of corrections" to the decree creating the new projects that the Catalan government has accepted, which means that the Sánchez executive has no objections.
However, they emphasize that the Spanish government can "judicially request the closing of delegations if it considers that its activity violates the law or is contrary to the interests of Spain".
The Catalan offices in Ireland and the United Kingdom, Germany, the United States, Italy, Switzerland, and France have also been given the official go-ahead, after they were first greenlit with government decrees in September 2019, after they had been closed after the application of direct rule.
The Catalan high court on Friday annulled a Spanish government decree against the foreign seats, but the court decision will have no effect as the September decrees have already reopened them.
Offices abroad part of 'secessionist plan'
The Madrid cabinet claimed in October that they are "harmful" for Spain and part of a "secessionist plan" – while the TSJC works on a final decision on Spain's appeal, the decree launching them will be suspended.
Spain's foreign ministry, led by the EU's diplomacy head, Josep Borrell, also argued that the offices should be blocked in order to "avoid the damages to Spain's image that would be difficult or impossible to repair, and to its foreign policy action that they will undoubtedly undertake" if the delegations were opened.
Shortly afterwards, Catalonia's foreign minister, Alfred Bosch, called Madrid's appeal "inadmissible" and nominated the new delegates despite the challenge.
In his speech before being re-elected Spanish president, Pedro Sánchez pledged to leave "judicialisation" of the Catalan conflict behind.
Network of international offices abroad
The ultimate aim of Bosch is to "consolidate the network of representation abroad and the presence of Catalonia in Latin America and the Maghreb."
If the Mexican, Argentinean and Tunisian seats are launched in the end, the country will have 15 offices around the world.
All of Catalonia's delegations were closed by Madrid in 2017, except for the one in Brussels. When the Catalan Parliament appointed a new president after six months of suspended self-rule, one of the first measures the government announced was the relaunch of the network of foreign delegations.