Spain's Constitutional Court rejects Catalan activists' appeal against their prison sentences
Pro-independence leaders Jordi Cuixart and Jordi Sànchez can now take case to European Court of Human Rights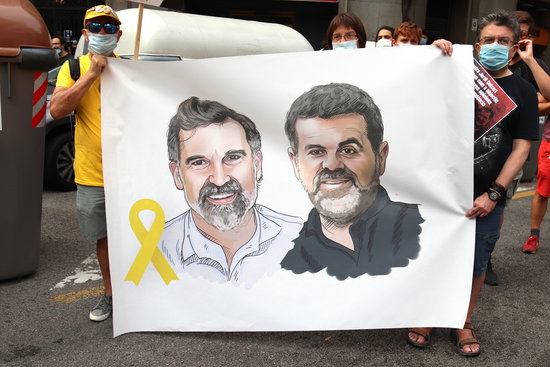 Spain's Constitutional Court has rejected an appeal from the jailed Catalan activists Jordi Cuixart and Jordi Sànchez against their sedition convictions.
Imprisoned since October 16, 2017, following Catalonia's push to hold an independence referendum despite Spain's opposition, Cuixart and Sànchez can now take their cases to the European Court of Human Rights.
As the president of Òmnium Cultural, one of the main organizations defending Catalan language and culture, Cuixart is the only one of the nine imprisoned leaders who does not belong to a political party.
At the time of his imprisonment, Sànchez was the head of another grassroots group also pushing for independence, the Catalan National Assembly (ANC), but later left the organization to become the secretary-general of Junts per Catalunya, the party created by former president Carles Puigdemont from exile in Belgium.
Spain's highest court rejected Cuixart's and Sànchez's legal challenges against their 9-year prison sentences, although two judges did not agree with the decision.
2017 referendum trial
On October 14, 2019, Spain's Supreme Court sentenced nine pro-independence politicians and activists to 9 to 13 years behind bars having found them guilty of sedition and, in some cases, misuse of public funds.
The highest court they can appeal to within Spain is the Constitutional Court, which is considering each case individually and has already dismissed the cases of former Catalan ministers Jordi Turull and Josep Rull.
Once all appeals within Spain are exhausted, defendants can take their cases to the European Court of Human Rights located in Strasbourg.