Spain's conservatives to pick new leadership in early April with current head to step down
Pablo Casado accused of espionage to discredit senior colleague as regional officials lobby for Galicia president to replace him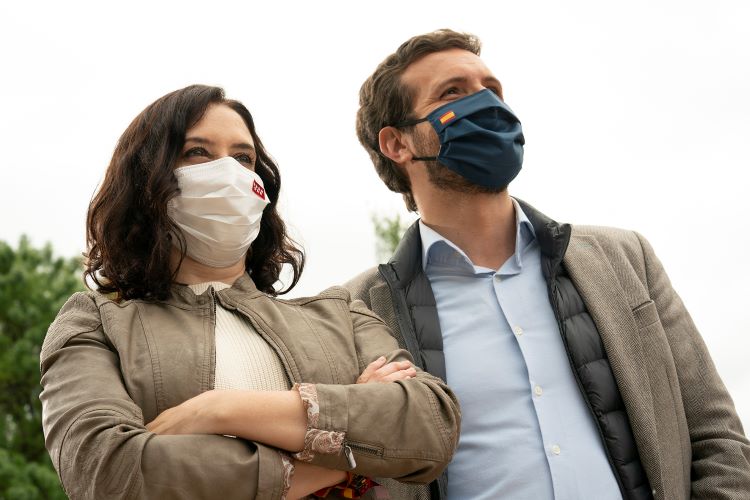 Spain's conservatives will pick a new leader in an extraordinary party convention to be held on April 2 and 3, as decided on Thursday in the early hours of the morning during a meeting between key officials in Madrid.
The meeting was chaired by the party leader, Pablo Casado, who was asked to immediately step down – yet, the People's Party senior members ended up agreeing to keep him in power until the convention, while Casado committed in writing not to run for re-election as party leader.
On Wednesday morning, Casado had given a brief speech in the Spanish Congress in Madrid that sounded like a farewell.
The still-chief of PP has been in the spotlight for several days after having accused the president of the Madrid region, Isabel Díaz Ayuso, of helping her brother benefit from the emergency sale of face masks during the first months of the pandemic – and allegedly having orchestrated espionage against her to prove it.
Díaz Ayuso is a senior member of Casado's political force and one of its most popular figures, especially after having prioritized the economy over imposing restrictions during the Covid-19 crisis. This contributed to the continued reign of the People's Party in the Madrid region, which she leads, after the 2021 election saw them obtain their best result in 10 years.
Galicia president top choice of regional leaders to replace Casado
Díaz Ayuso was not invited to the meeting where other regional leaders took part. Most of them asked for the current president of Galicia, Alberto Núñez Feijóo, to run for the party leadership in the convention, but he requested time to consider it. He is expected to reveal his intentions next Tuesday when the top body within the conservatives will officially call the convention.
One of the best-regarded regional PP leaders, Alberto Núñez Feijóo, has been the president of Galicia since 2009 after achieving four consecutive absolute majorities.
He rejected to bid for the party leadership in 2018 when Casado was appointed after Spanish president Mariano Rajoy stepped down right after having been ousted from his post by the Socialist Party in a motion of no confidence.
While a new leader is appointed, Casado will still formally be in charge of PP, but the current parliamentary spokesperson Cuca Gamarra will assume his functions, while MEP Esteban González Pons has been appointed as the April convention organizer.
Accusations of espionage and corruption between senior party figures
It all stems from the fact that Díaz Ayuso has been vying for the presidency of the People's Party Madrid region branch for months, something the current party leadership is understood to oppose. Subsequently, it is believed that both politicians have been at odds, but it was not until February 16 when El Mundo and El Confidencial newspapers published that the party leadership had spied on Díaz Ayuso over her brother allegedly having earned €286,000 for brokering between the Madrid region and a company in a €1.5m-sale of face masks in spring 2020.
The following day, the submerged conflict between the two flared up as Díaz Ayuso accused Casado of having acted in a "cruel" and "unfair" way against her, and denied any wrongdoing. Since then, she has continuously accused her own party's leadership of violating her presumption of innocence while confirming that her brother earned €55,850 from the sale but that it was done legally and not through nepotism.
Her public anger against her party head led to PP taking disciplinary action against her, which could have ended with Díaz Ayuso expelled, while denying accusations of espionage – yet, as many voices within the party and several conservative media outlets began to align with the Madrid region leader and showed astonishment at Casado's crusade against his party's most popular member, his leadership dismissed disciplinary action on February 19 after considering Díaz Ayuso had given sufficient explanations to the issue involving her sibling.
The conservative party leader wanted to shelve the whole case, but his authority had already become badly damaged and in the past few days, an increasing number of senior members have directly or implicitly asking him to convene a party congress to pick a new head for the People's Party in order to replace him.