Leader of Spain's conservatives stumbles over corruption and espionage within party
Pablo Casado asked to call convention to pick new party head after accusing senior colleague of nepotism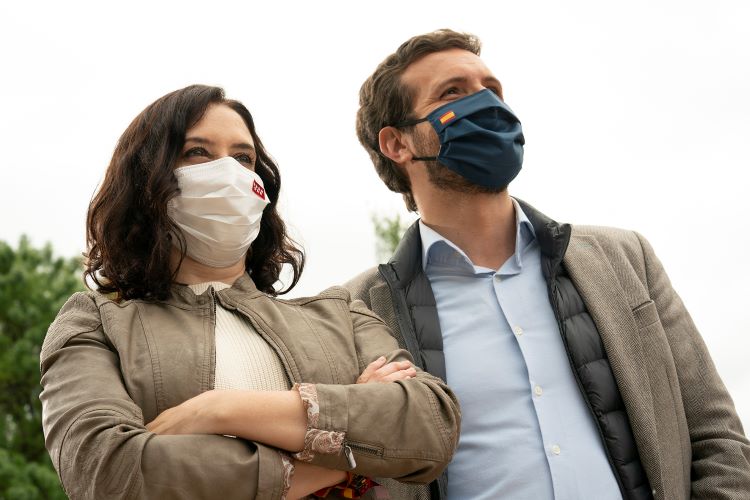 The leader of the Spanish conservative party, Pablo Casado, has been in the spotlight for several days after having accused the president of the Madrid region, Isabel Díaz Ayuso, of helping her brother benefit from the emergency sale of face masks during the first months of the pandemic – and allegedly having orchestrated espionage against her to prove it, which may cost him his post.
Díaz Ayuso is a senior member of Casado's political force, the People's Party, and one of its most popular figures, especially after having prioritized the economy over imposing restrictions during the Covid-19 crisis – this contributed to the continued reign of the People's Party in the Madrid region, led by her, after the 2021 election saw them obtain their best result in 10 years.
Accusations of espionage and corruption between senior party figures
Díaz Ayuso has been vying for the presidency of the People's Party Madrid region branch for months, something the current party leadership is understood to oppose. Subsequently, it is believed that both politicians have been at odds, but it was not until February 16 when El Mundo and El Confidencial newspapers published that the party leadership had spied on Díaz Ayuso over her brother allegedly having earned €286,000 for brokering between the Madrid region and a company in a €1.5m-sale of face masks in spring 2020.
The following day, the submerged conflict between the two flared up as Díaz Ayuso accused Casado of having acted in a "cruel" and "unfair" way against her, and denied any wrongdoing. Since then, she has continuously accused her own party's leadership of violating her presumption of innocence while confirming that her brother earned €55,850 from the sale but that it was done legally and not through nepotism.
Her public anger against her party head led to PP taking disciplinary action against her, which could have ended with Díaz Ayuso expelled, while denying accusations of espionage – yet, as many voices within the party and several conservative media outlets began to align with the Madrid region leader and showed astonishment at Casado's crusade against his party's most popular member, his leadership dismissed disciplinary action on February 19 after considering Díaz Ayuso had given sufficient explanations to the issue involving her sibling.
Galician president Casado's replacement?
The conservative party leader wants to shelve the whole case, but his authority is already badly damaged and in the past few days, an increasing number of senior members have directly or implicitly asking him to convene a party congress to pick a new head for the People's Party.
For instance, PP's leader in Catalonia, Alejandro Fernández, urged Casado on Monday to "take radical measures" and let party members have their say – that is, organizing a congress to choose a replacement for the current chief.
Meanwhile, Madrid's mayor, José Luis Almeida, stepped down as party spokesperson on Tuesday, after having remained silent for days – the alleged espionage against Díaz Ayuso is believed to stem from a senior official in the Spanish capital's local council.
One of the best-regarded regional PP leaders, Alberto Núñez Feijóo, who has been the president of Galicia since 2009 after achieving four consecutive absolute majorities, also told Casado to make "a final decision" to sort the crisis out.
Núñez Feijóo rejected to bid for the party leadership in 2018 when Casado was appointed after Spanish president Mariano Rajoy stepped down right after having been ousted from his post by the Socialists in a motion of no confidence.
Yet, now, some voices in the political force believe he should replace the current party head as a neutral figure in the clash between Casado and Díaz Ayuso, who has always denied wanting more power within the political force or plans to run for president in a Spanish election.
What now
After a marathon meeting of the party leadership on Monday, Casado did not step down or sack his secretary-general and right-hand, Teodoro García Egea, but announced that next Tuesday a top body within the conservatives would convene in order to decide whether the People's Party should organize a congress to pick a new leader. Some sources say that García Egea already stepped down on Tuesday evening, and that Casado will call the extraordinary party convention on Tuesday next week.
This Wednesday the party's regional chiefs, including Feijóo but not Ayuso, will meet with Casado.
Meanwhile, internal criticism continues and more resignations of senior members are expected. On Tuesday, the PP leadership in the Spanish congress released a statement urging for the ousting of Teodoro García Egea and in favor of calling an extraordinary party congress to elect a leader.
Parliamentary spokesperson Cuca Gamarra and former Spanish congress speaker Ana Pastor did not sign the statement, but favor this stance.
Anti-corruption prosecutor investigates contract involving Díaz Ayuso's brother
At the same time, on Tuesday, the Spanish anti-corruption prosecutor's office opened an inquiry into the €1.5m contract between the Madrid region and Priviet Sportive for the sale of 250,000 FF2 and FF3 face masks in which Tomás Díaz Ayuso received at least €55,000 to import the protective equipment from China to Madrid.