Spain's congress passes budget with backing of most pro-independence MPs
Catalan government partners vote differently as deal includes allocation of €2.3 billion for investments in Catalonia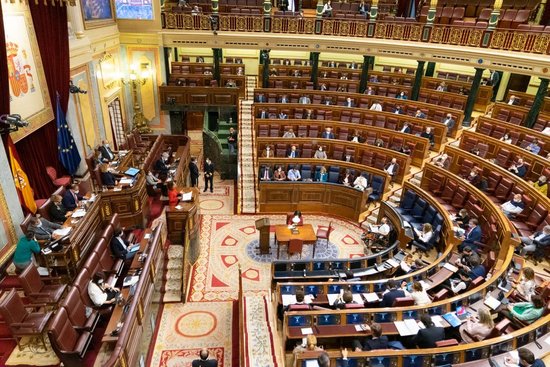 The Spanish congress has passed its first budget since the last spending plan of the People's Party government in 2018.
On Thursday, 188 out of the 350 legislators gave their go-ahead to the spending plan, including the two political forces in power, the Socialists and left-wing Unidas Podemos, but also most Catalan pro-independence MPs.
ERC and PDeCAT voted Yes after reaching separate deals, but there was no unity of action within those in favor of a Catalan state – Junts per Catalunya (JxCat) and CUP voted against the proposal.
Thus, Catalan government partners JxCat and ERC voted separately, showing their lack of consensus again on whether to prioritize a softer or a harder stance with Spanish president Pedro Sánchez's executive.
Overall, around 75% of the Catalan MPs greenlighted the budget, with unionist Ciudadanos, People's Party and Vox voting against, blasting at the Socialist deals with "separatists."
Four-point agreement with ERC
ERC's spokesperson in congress, Gabriel Rufián, explained on November 25 that their agreement with the Socialists to vote in favor includes investments worth €2.3 billion and is based on four points.
The first is the extension of the moratorium on social security contributions for the self-employed until March 2021.
The second is the creation of a "bilateral" committee for "fair tax reform" with a specific working group for the reform of tax on large fortunes "to end tax dumping in Madrid."
The third is the settlement of the Spanish Education Department's debt to Catalonia over scholarships since 2005.
The final point, which Rufián says is the most important, is the lifting of Spain's financial control over the Catalan government, imposed in 2015 by a previous Spanish administration led by Mariano Rajoy.
As for center-right pro-independence PDeCAT, a €232 million euros transfer to the Catalan government for the commuter train network (Rodalies) and deals so that the semi-public online university UOC has the same conditions as the public ones to hire associate professors.
JxCat MP and presidential candidate Laura Borràs said on Monday that they cannot grant their support "in exchange for nothing or almost nothing."
As for CUP, they also argued their stance on Monday saying that "80% of Catalans want a referendum that the Socialists reject."