Spain ignores UN's demands to release Catalan leaders, says pro-independence group
The body had set a 6-month deadline for the freedom of the jailed political figures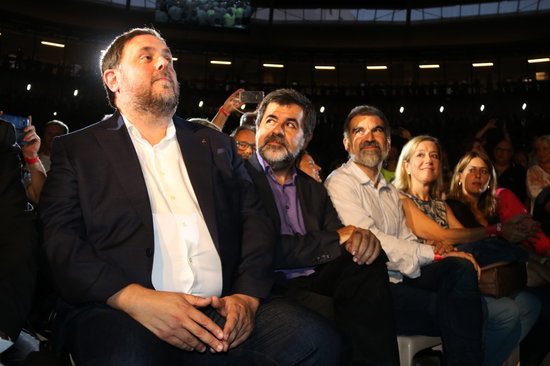 The 6-month deadline set by the United Nations Working Group on Arbitrary Detention (WGAD) for the release of the jailed political leaders has officially expired, as pro-independence organization Òmnium Cultural has claimed that Spain has not responded.
The Catalan foreign ministry, led by Alfred Bosch, has also pointed out that the deadline has expired. For him, "if [Spain] has not responded, it is failing to fulfil the UN report. Is this the stance they want to show to the world?"
In May, the organization had demanded the release of Jordi Cuixart, Jordi Sánchez and Oriol Junqueras and compensation for all three, since in their role behind the 2017 referendum for which they were jailed, they acted ''in exercise of fundamental rights.''
The UN WGAD released a 19-page report to lay out its objections to the leaders being kept in preventive detention, stressing that they exercised freedom of expression and freedom of peaceful assembly in their actions. The report also cast doubts on the fairness of the Catalan Trial, questioning whether the Madrid court was impartial.
Sánchez, Cuixart and Junqueras were the first jailed leaders to take their cases to the UN WGAD in February 2018. Raül Romeva, Josep Rull, Dolors Bassa and Joaquim Forn later joined the request.
After they did so, the body also demanded the release of Romeva, Rull, Bassa and Forn in July, considering the detention of the leaders to be a violation of their fundamental rights.
Since the report was released the leaders have since been sentenced to between 9 and 13 years behind bars as the verdict to the Catalan Trial was issued.
Since the deadline expired, imprisoned leader Jordi Cuixart, president of cultural and civil rights organization Òmnium Cultural has stated from prison that in ignoring the international human rights bodies, Spain is ''acting like a country with low democratic levels.''
Òmnium Cultural themselves, who have over 180,000 members, have urged Spanish president Pedro Sánchez to stop ignoring the demands of the UN WGAD.