Solicitor General defends Junqueras taking up European Parliament seat
Spanish govt body backs Catalan leader temporarily leaving jail to take up Brussels seat, but wants his suspension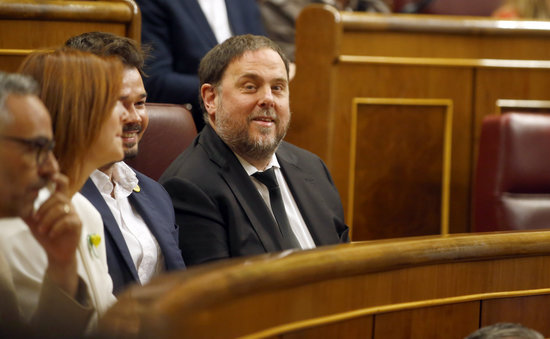 Spain's Solicitor General argues that Catalan leader, Oriol Junqueras, should temporarily be allowed out of jail to take up his European Parliament seat, thus prioritizing his political immunity over his recent sentencing to 13 years in prison and bar from public office.
In a report on Monday, the legal representative of the Spanish government recommended that the high court allow Junqueras to complete his accreditation as an MEP in Madrid, and then allow him to travel to Brussels to officially take up his seat in the EU parliament.
On December 19, the European Court of Justice (ECJ) ruled that the head of the pro-independence ERC party had immunity as an MEP-elect, and that he should have been allowed out of prison to take up the seat he won in May's European election.
However, while recognizing the ECJ's ruling, the Solicitor General also argues in the report for the judges of the Supreme Court to call on the European Parliament to suspend Junqueras' parliamentary immunity as soon as possible.
Temporary or permanent release?
Just before Christmas, Junqueras' defense lawyer formally requested that the Supreme Court order the "immediate" release of the Catalan leader so that he can attend the EU parliament, but also demanded that his sentence for sedition be overturned.
While the Solicitor General agrees that Junqueras should be temporarily allowed out of prison to take up his seat in Brussels, the report insists that his sentence is final and so the court should take steps to enforce his bar on holding public office, including as an MEP.
Precedent after EU election
Back in June, the Solicitor General also recommended that the Supreme Court allow Junqueras out of prison to complete his accreditation as a European Parliament member, as it had done a month earlier when he was allowed to take up his seat in the Spanish congress.
However, the Supreme Court eventually decided to accept the public prosecutor's arguments that if Junqueras were allowed to officially register his EU parliament seat, it would then become extremely difficult to secure his suspension as an MEP in Brussels.
Impact on political situation
How the Supreme Court decides to act next will have a strong bearing on the current political situation, as the Socialist party (PSOE) tries to garner support in congress to invest Pedro Sánchez as president and so be able to form a new Spanish government.
PSOE is currently in talks with Junqueras' party hoping to secure at least its abstention in a future investiture vote, which ERC sees as a possibility before the King's Day holiday on January 6, as long as the Socialists make "a gesture on Junqueras."