Socialist becomes Spain's congressional speaker thanks to votes of pro-independence MPs
Catalan, Basque, and Galician allowed in chamber as government requests use in EU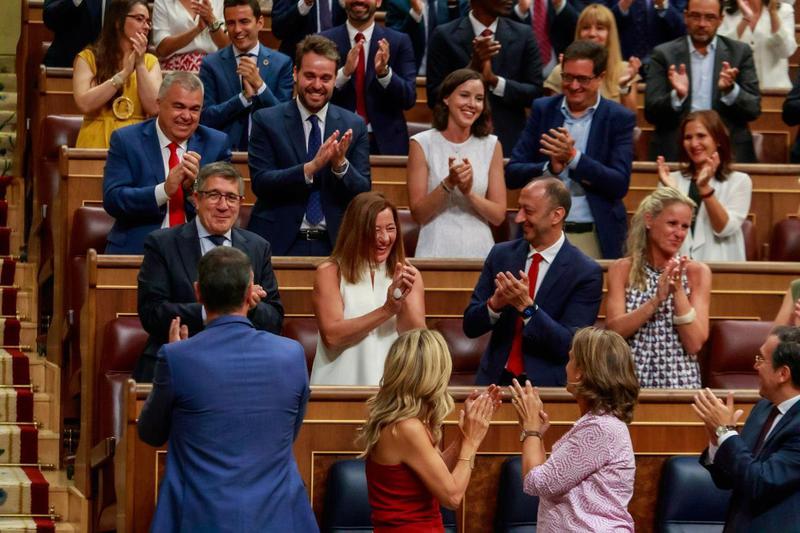 Socialist MP Francina Armengol became Spain's congressional speaker following a first round of voting on Thursday morning after successfully securing the backing of pro-independence Junts per Catalunya and Esquerra Republicana in last-minute deals.
The left-wing unionist party has thus overcome this first test of might after the July 23 general election resulted in a hung parliament, with the conservative People's Party winning more seats than the Socialists, but falling short of an absolute majority, even with the potential support of the far-right, which did not vote for conservative speaker candidate Cuca Gamarra.
After succeeding in holding onto the Congress bureau presidency and ensuring a progressive 5-4 majority thanks to the 178 votes of the Socialists, Sumar, and Basque and Galician nationalists in addition to those of Junts and Esquerra, the left-wing bloc may be one step closer to forming a government - if it is able to continue securing the support of regional parties.
Minority languages official in EU and Congress
Immediately after Armengol's appointment, the Spanish government officially requested that the European Council initiate the process to make Catalan, Galician, and Basque official languages of the European Union, thereby upholding part of the Socialist agreements with Junts and Esquerra.
Spain's foreign minister, José Manuel Albares, asked that this issue be discussed in the General Affairs meeting on September 19.
Hours later, the new chamber speaker announced that she would allow MPs to use Catalan, Basque, and Galician, in addition to Spanish, in congressional debates to "better reflect the real Spain."
Addressing the chamber in the co-official languages, Armengol said that all four languages would be permitted in Congress from this Thursday.
"To defend parliamentary democracy is to preserve the diversity that coexists in our country," the politician said.
Some 10 million people speak Catalan. Being able to use the language in EU institutions has been a long-standing demand of many native speakers.
Last-minute deals with Junts and Esquerra
This policy change comes after eleventh-hour deals with the two main pro-independence parties, Junts and Esquerra, both of which have 7 MPs each. While Esquerra has favored dialogue with the Socialist-Podemos government in Madrid, reaching agreements over the past four years, hardline Junts has favored confrontation, an approach that had many on edge until barely an hour before Congress convened to elect its new speaker.
The Junts-Socialist deal includes allowing lawmakers to use Catalan in debates as well as the creation of congressional investigative committees into deep state 'sewers' and and the August 2017 terrorist attacks in Barcelona and Cambrils in exchange for support for Armengol.
Former Catalan president Carles Puigdemont of Junts, in Belgium since late 2017 to evade prosecution for the independence referendum deemed illegal by Spain, justified his party's support for Armengol by saying that the request to make Catalan, Galician, and Basque official languages in the EU was now "a fact, not a promise."
"To some, it will seem to be too much, and to others, it will seem to be too little," he wrote on X, explaining that his party's backing for a minority left-wing government in Madrid was still anything but certain.
"It is a negotiation for the congressional bureau. The investiture is exactly where it was the day after the elections," he explained.
Similarly, Junts MP in Madrid Míriam Nogueras said the agreement was "historic" as it had led to the use of minority languages in Congress and possibly soon in the EU, but stressed that it "in no way" entailed support for a Sánchez prime ministerial bid.
The less shocking but still last-minute Esquerra-Socialist deal, meanwhile, also includes points such as making Catalan official in Spanish and European institutions as well as getting to the bottom of the Pegasus espionage affair that saw over 60 people with ties to the independence movement targeted with government-grade spyware.
A preliminary document sent to the press made mention of a potential amnesty for people who face charges for the independence push, but Esquerra retracted that in a subsequent version, which only referred to "putting an end to the repression of the independence movement through the necessary legal channels."
And although this point was not included in the final agreement, party president Oriol Junqueras, himself a former prisoner for his role in the 2017 vote, nonetheless argued that "all legal channels" should include "an amnesty law."
Right and far-right criticize agreements
The conservative People's Party and far-right Vox parties fiercely criticized the Socialists' deals with the main pro-independence parties.
"Will there be an amnesty, a referendum, or self-determination?" Gamarra, the People's Party speaker candidate, asked. "The independence movement has the future of our country in its hands because Pedro Sánchez allows it."
Vox secretary general Ignacio Garriga, meanwhile, claimed that Argmengol's presidency was the "beginning of a dark chapter" in Spain's history, arguing that its institutions had been "kidnapped" by "separatists."
The People's Party, which with its absolute majority in the upper house was able to designate Pedro Rollán as Senate speaker, still has 4 seats in the Congress bureau. Vox, however, has none as it was not able to reach an agreement with the People's Party.