Puigdemont to visit London, Berlin and Ljubljana during EU election campaign
Exiled pro-independence candidates prepare European tour ahead of polls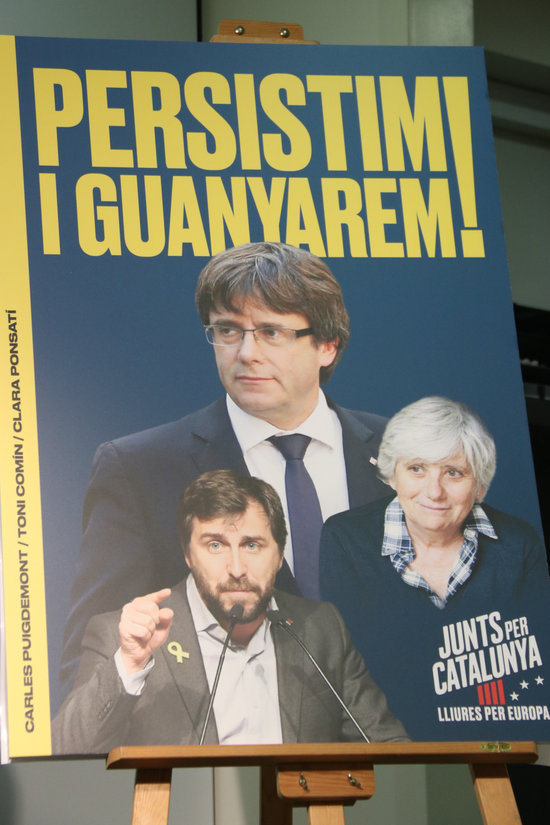 Carles Puigdemont and his fellow candidates-in-exile will feature at rallies in the UK, Germany and Slovenia as part of the run-up to the European Parliament election on May 26.
The former president, along with ministers Toni Comín and Clara Ponsatí – ejected from office by the Spanish government following their failed declaration of independence in 2017 – are due to appear at the Catalan diplomatic hubs on behalf of their Junts per Catalunya party.
The aspiring MEPs will also speak via video link at a party gathering in Madrid, as well as at events in Belgium, where they have been based since the independence attempt.
Spain's electoral authority had barred the trio from standing in the election on the grounds that they were "state fugitives" but the Spanish courts overruled the verdict on appeal.
The Constitutional Court rejected an appeal from unionists People's Party and Ciutadans on Thursday.
Puigdemont's allies have pledged that the campaign would reflect their wider efforts to attract international support for their self-determination drive, and stressed that their chosen locations would set the tone for a "distinctly European campaign with a focus on Catalonia".
During the trips, Puigdemont is expected to prioritize speaking to Catalans living abroad and foreign political groups with the aim of spreading his "Catalan vision for Europe".
Campaign launch
Pro-independence, center-right Junts per Catalunya unveiled its election slogan, "We will persist and we will win", in a launch event at the European Parliament on Wednesday.
The party is confident that its budget of 400,000 euros will be sufficient to carry out one of the most logistically ambitious campaigns of the election, although its campaign director Aleix Sarri has criticized Spain's electoral authority for its treatment of Catalan-only parties.