Puigdemont takes case to UN: 'Catalan voters suffer arbitrary decision of judge'
Former president and jailed pro-independence leaders denounce 'violation of political rights as MPs'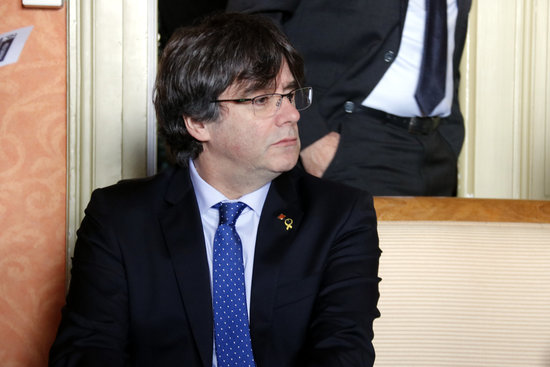 Former Catalan president Carles Puigdemont and five pro-independence leaders in pre-trial jail have denounced a "serious violation of their political rights as MPs" by the Spanish authorities to the United Nations Committee for Human Rights.
In a press conference held in Geneva, Puigdemont and exiled politician Marta Rovira said that the "political repression" against the independence movement has "not stopped."
Spain's Supreme Court indicted Puigdemont and his fellow MPs for the crime of rebellion and ordered their suspension from their parliament seats last July. Consequently, Catalonia's ruling coalition partners, Junts per Catalunya (JxCat) and Esquerra (ERC), lost their majority in the chamber after the former president and other lawmakers resisted being replaced. Now, they are bringing their case to the UN.
Puigdemont: "Voters are the first to suffer"
Puigdemont denounced that Catalan voters "are the first to suffer the arbitrary decision of a judge" because Spanish courts are preventing them from being represented in parliament.
He accused them of "changing the majority" of the chamber by suspending the rights of those MPs. Puigdemont sees this as "unacceptable for European rule of law." "We are not only defending ourselves but fighting for European fundamental rights", he claimed.
Rovira: "A political choice is not a crime"
ERC leader exiled in Switzerland Marta Rovira also stated that defending "a political choice is not a crime". In this sense, her lawyer Nico Kirsch assured that "for states to respect different views is key to democracy." "To defend these MPs is to defend democracy," said Rovira.
Kirsch explained it will take at least "a year or a bit more" to get a decision from UN but that this demand is not about getting "a remedy in the short term", but to "send a message" to Europe and the world about "violations committed" by the Spanish state.
Goals of hunger strike "achieved"
Puigdemont also referred to the hunger strike by jailed pro-independence leaders, which came to an end on Thursday: "The effects of the hunger strike are already evident in terms of stirring people's consciences, triggering real effects, and regards internationalizing the case. I think this has been achieved, which was the hunger strike's objective and, therefore, I celebrate that it has ended."