Puigdemont probably became MEP 'illegally,' EU Parliament lawyer says
European General Court to decide whether former Catalan president's immunity waiver was lawful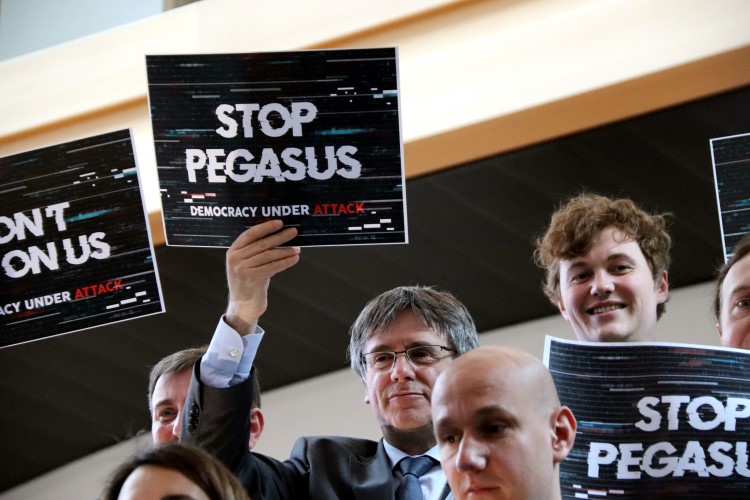 Catalan MEPs Carles Puigdemont, Toni Comín, and Clara Ponsatí await sentencing to decide whether their European parliamentary immunity waiver was lawful or not. During the second day of hearings, EU chamber's lawyer Norbert Lorenz said the politician probably became an MEP "illegally."
Puigdemont, Comín, and Ponsatí, all MEPs for pro-independence Junts per Catalunya, were elected in May 2019 but did not travel to Madrid to take the constitutional oath as they are wanted in Spain for their role behind the 2017 independence referendum.
On Friday the hearings at the European General Court (EGC) lasted over five hours, with the lawyer of the pro-independentist politicians, Gonzalo Boye, arguing there was a "lack of impartiality" in all court cases as well as a "political persecution."
"It is publicly known and notorious that ministers and members of the Spanish government have said that the goal of the reform of the crime of sedition is to see Carles Puigdemont extradited to Spain. If this is not political persecution, I do not know what it is," the attorney said.
However, the chamber's lawyers say their treatment was "correct" and the Catalan leaders occupied their seats despite the fact that "the European Parliament did not receive any documents that the defendants had been named or elected members of parliament," Lorenz said.
The second day of the court session, which started on Thursday, also saw the judges from the European General Court asking several questions with the president of the chamber leading the way.
"Don't you think that you are underestimating members of the European Parliament?" Cyprus' Anna Marcoulli, the president of the court asked Gonzalo Boye.
"If such a great violation of rights had really occurred, don't you think the members of the chamber would have said something?" she added.
Lawyers await sentencing which could arrive in early March next year, just before the expected decision from the Court of Justice of the European Union (CJEU) regarding Spain's clarification requests over Puigdemont's extradition case.
Why is Puigdemont wanted by Spain's judiciary?
He was the Catalan president in 2017 and the person who decided to go ahead with an independence referendum despite Spain not authorizing it. During his last day of mandate before being sacked by the Spanish government, on October 27, 2017, independence was declared in parliament.
Three days later, he was included in a criminal case put forward by the public prosecutor for the independence push, but while this lawsuit was announced, the very same day it was learned that he had gone into exile in Belgium.
Spain's judiciary has been unable to extradite him or any other exiled pro-independence leader for over four years because neither Belgium, Germany, Italian or Switzerland have accepted it.