Puigdemont must go to Madrid to take EU parliament seat, say chamber lawyers
Ex Catalan president could face arrest in Spain, as legal report warns parliamentary immunity won't apply until he takes oath of office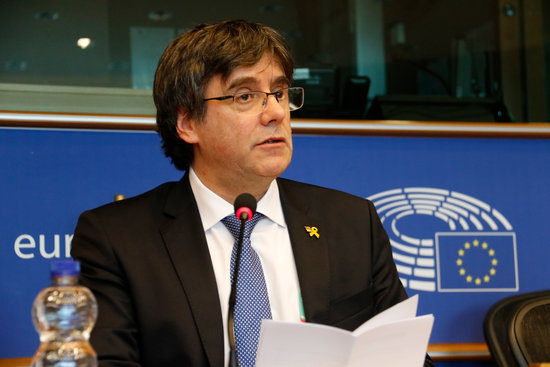 Carles Puigdemont, the former Catalan president exiled in Belgium, will be required to return to Spain despite the risk of being arrested if he is elected in the European election and wants to take his seat, according to a report by the chamber's legal services.
"His presence in Madrid is required in order to take the pledge of the Spanish constitution and thus be included in the list communicated by the Spanish authorities to the European Parliament. If he were arrested when doing so, the Spanish judicial authorities could still give him permission to do such taking of the pledge. Whether this permission is given depends on the Spanish judicial authorities," read the report conclusions.
Puigdemont left Catalonia after being sacked by the Spanish government in October 2017, following a declaration of independence deemed as illegal. With his former colleagues in jail and currently facing trial, Puigdemont would immediately be arrested if he sets foot on Spanish soil.
He promised to return if elected in the European election, claiming he would enjoy parliamentary immunity. But the EU chamber lawyers stress the legal protection would only apply once he takes the oath of office in Madrid.
Gonzalo Boye, Puigdemont's chief lawyer, accused the European Parliament president Antonio Tajani of "mixing his wishes with reality," and opened the door to a legal challenge if the Catalan leader is prevented from assuming his post.
Second time Puigdemont pledges return
Puigdemont made a similar claim in the aftermath of the December 2017 Catalan elections, promising to return if he won.
The pro-independence leader eventually claimed that there was no need for him to be physically present for his swearing in session as Catalan president. However, the Spanish Constitutional Court ruled that he could not assume the presidency from abroad.
Puigdemont still hopes to be reinstated as Catalan president –at the moment, he is an MP temporarily suspended by Spain's judiciary. His parliamentary group has been trying to modify the Catalan parliament's regulation so that it allows swearing in a president by proxy for a year.