Puigdemont lands in Denmark
Spanish prosecutor urges Supreme Court to issue again an international arrest warrant on the Catalan president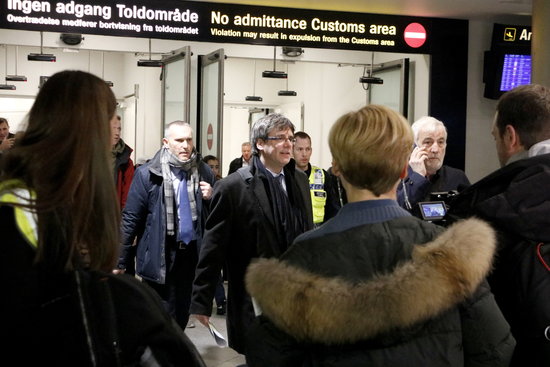 Carles Puigdemont has left Belgium for the first time since arriving in late October. He landed in Denmark on Monday at 8.30am. The dismissed Catalan president aims to take part in a debate about Catalonia in the University of Copenhagen on Monday at 2pm.
Yet right after Puigdemont's arrival in Denmark, the Spanish prosecutor urged the Spanish Supreme Court to reissue the international arrest warrant for him that was withdrawn in December. Puigdemont's lawyer, Jaume Alonso-Cuevillas, stated last week that there was a "fairly high" risk of arrest should he attend the debate in the Nordic country.
As Puigdemont's flight was landing in Denmark, the Spanish government handed over to the prosecutor all the information police have about the Catalan president's journey and offered its cooperation "at all times." An official from Mariano Rajoy's executive said that it was for the judiciary to decide whether the international arrest warrant should be reissued.