Puigdemont considers suing Borrell for 'doubting' Belgian judiciary's independence
Exiled former president and two ex-ministers report EU High Representative's criticisms of court's decision to delay extradition hearing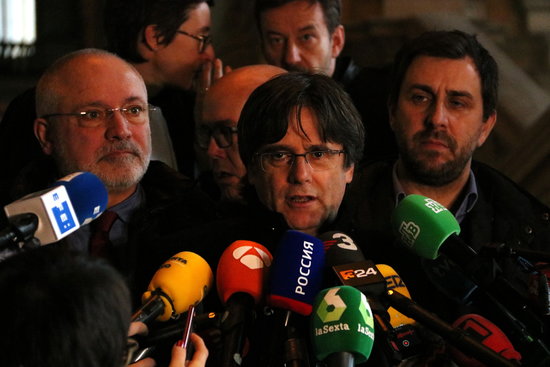 Former Catalan president, Carles Puigdemont, and two of his former ministers are looking into taking legal action against the High Representative of the European Union, Josep Borrell, for casting "doubt" on the "independence" of the Belgian judiciary.
Borrell criticized a court in Belgium this week after it chose to delay until February 3 the extradition hearing of Puigdemont, Toni Comín and Lluís Puig, who have been in exile there since the failed independence bid in Catalonia in 2017.
The court decided to adjourn the hearing of the former Catalan government members, who are all subject to extradition requests from Spain, until the European Court of Justice rules on the parliamentary immunity of jailed Catalan leader, Oriol Junqueras.
Borrell mentions an ETA member case
On Monday, Borrell recalled an old case saying the courts had ignored "a European order against a known wanted terrorist," in reference to an armed organization ETA member. "So it should not surprise us to see other things," in implied reference to Belgium not extraditing Puigdemont so far.
After reporting Borrell's words to the judge overseeing their extradition and the European Commission, the former officials said in a statement: "the system of Euro orders works every day without any impediment except when, logically, it's used for political persecution."
Borrell, who served as Spain's foreign affairs minister until he took over the High Representative's post on December 1, is a fierce critic of the independence movement in Catalonia and the Puigdemont government that oversaw the failed bid two years ago.